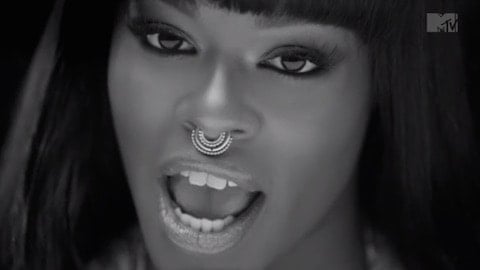 In a new interview in The Guardian, rapper and self-described icon Azealia Banks is asked if she regrets any of her explosive Twitter feuds, particularly the one she had with Perez Hilton.
From the profile:
"I don't regret doing it, but I'll never do it again, because I don't care enough about the person to have the battle again and defend my use of the word 'faggot'," she says. I thought her defence might be that she was using the word much as American comedian Louis CK employs it, as a general insult for a weak person or ineffectual behaviour. In fact, to Banks, "faggot" is a term of abuse levelled specifically at misogynists, some of whom, in her experience, have been gay.
"A lot of gay men are way more misogynistic than straight men," she says. "The shit they say about women behind their backs, it's like: 'Wow, oh my God!' You can be a straight faggot, you can be a gay faggot. A faggot is anybody that hates women. It's like, y'all sing along to my words when I'm saying 'ni–a' and 'c–t', but as soon as I call this one white man a faggot the whole world exploded. Listen, I didn't say all gay men are faggots; I said Perez Hilton is a faggot, so don't try and bring the rest of the gays down with your faggotry."
Banks released a new album, Broke With Expensive Taste, this week along with a slick new Marc Klasfeld-directed video for the single "Chasing Time".
Watch, AFTER THE JUMP…