BioWare, the Canadian software company known for producing the hit video game series Mass Effect, created a custom video game level from the series for one of their fans named Jackie who wrote an email to the developer asking if they could help her propose to her girlfriend, Amy, in a memorable manner in a story posted on BioWare's Blog.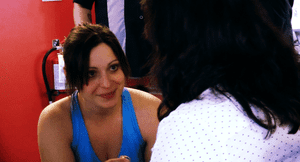 Studio Manager Marie-Renée Brisebois of BioWare Montréal obliged Jackie's request and asked other developers if they would be interested in fulfilling Jackie's request. Brisebois assembled a small team composed of writers, level designers and analysts to craft a playable level that results in a proposal message accessed by the player, which in this case is Amy. Lead Level Designer Colin Campbell viewed it as an opportunity to share a mutual joy with the couple.
Said Campbell:
"I love being married. It's my favorite thing about my life, and it's a huge amount of what I enjoy about living, but being a videogame designer doesn't often give me the opportunity to help someone else have a marriage."
"This is rare and something that's almost never going to happen to anyone in the industry, so as soon as I saw the opportunity, I jumped right on it."
The team meticulously worked on everything from the writing, including references to the couple's relationship throughout the level, and making sure no programming bugs would occur to ensure a seamless experience. The developers and Jackie got Amy to the studio under the guise of winning a fake contest to tour the studio and play an early version of the next iteration of the series.
Jackie brought Amy into the studio to play the game, surrounded by developers pretending to record data on Amy's playthrough. At the end of the level, Amy's character walked up to a lone console and clicked on the console with a message from BioWare.
BioWare's message:
"Dear Amy, Jackie would like to ask you something.
Love,
All of us at BioWare"

Jackie then dropped down to one knee, took out the ring and proposed. Read the full story and see if Jackie said yes, on BioWare's blog.
Campbell said:
"There aren't many situations in videogame development where you get the chance to step back and do something like this for somebody else."
"I think videogames are powerful and an incredible form of art and entertainment and interaction, but they don't often get two people married. There are only a few stories like that in history, and it's awesome to be part of one of them."
The Mass Effect series is known for allowing its players to pursue same-sex relationships with NPC's in the game. The studio is also introducing a gay male party member in Dragon Age: Inquisition that is set for release next week, Nov. 18 on both current and last generation systems.