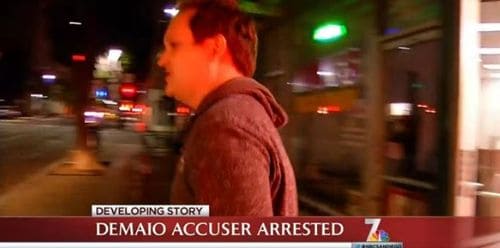 Todd Bosnich, a former Carl DeMaio campaign staffer who accused the openly gay GOP candidate of sexual harassment, has been arrested after a suspected altercation with his mother, NBC San Diego reports:
SDPD Lt. Mayer says during an argument with his mother, Bosnich allegedly pushed her, threw a drinking glass at her and disabled her phone.
Court records show a domestic violence case was filed against him Monday, and he was booked into jail Tuesday for battery, disabling a telephone line and assault with a deadly weapon.
Shortly after being released from jail, Bosnich ducked into a nearby bail bonds office.
DeMaio, who lost his race for California's 52nd congressional district to incumbent Scott Peters, denied the sexual harassment allegations – maintaining that Bosnich was a disgruntled ex staffer who was fired for plagiarism and may be responsible for the break-in at DeMaio's San Diego office back in May. 
Watch a news report on Basnich's arrest, AFTER THE JUMP…