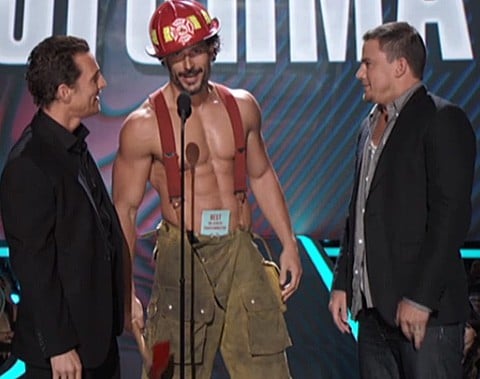 ICYMI, there is even more good news, regarding Magic Mike XXL. In September, we learned Cody Horn's widely-criticized performance will not be reprised, and this is even better.
Speaking with Time, Tatum said the film is male-centric, but it will appeal to straight female fans — a  "guy's story, but made for women." The interviewer responded, saying the film would also interest "gay men, surely." Tatum wholeheartedly agreed:
You'll see — we serviced [gay fans' interest] as well, in a way. [pauses] I'm choosing my words very stupidly. [laughs] One of our first stops is at a drag club on our odyssey. We call it a stripper odyssey because it's a traveling band of strippers. This movie is a lot more fun. In the first movie, we were obligated to show the underbelly — the pitfalls and dangers of being in that world. In this one, we kicked off a lot of the darkness. We're going to have a lot of fun on the road together. Hopefully you're going to care about these guys, and then get to see a lot of ridiculous nakedness and stupidity.
Tatum ended the interview, saying: "We got Joe Manganiello naked as much as possible. Everyone in the world: you're welcome."
Unfortunately, eager fans will have to wait quite a while — the film isn't out until July 1, 2015. Stephen Soderbergh will serve as cinematographer rather than reprise his role as director; Gregory Jacobs will direct.