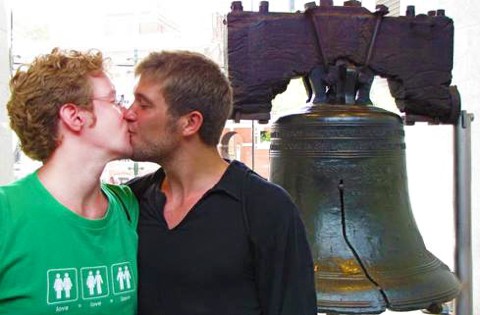 Some gay activists have long espoused a theory that the so-called "ick factor" — straight people's aversion to the idea of same-sex intimacy, especially involving men — is a fundamental obstacle to full equality. It helps explain the strategy behind historical gay kiss-in protests — or, more recently, same-sex couples posting photos of themselves kissing (above) on the Facebook page of anti-gay reality stars Jim Bob and Michelle Duggar.
But now a scientific study gives credence to the "ick factor" theory and, in doing so, could even help chart a course for the LGBT movement post-marriage equality.
The study, authored by Indiana University researcher Logan Doan and published in The American Sociological Review, surveyed more than 1,000 people and found that while 70 percent of heterosexuals support things like inheritance rights for same-sex couples, only 55 percent approve of gay men kissing on the cheek in public, according to Al Jazeera America. That's compared to 95 percent who approve of straight couples kissing on the cheek in public.
What's more, over 20 percent of heterosexual respondents said they disapprove of gay men talking about their relationships.
Even gay male respondents were less approving of gay PDAs than straight PDAs — perhaps, Doan says, due to internalized stigma and an inherent fear of hate crimes. And not surprisingly, heterosexual respondents were far more approving of lesbian PDAs, at a rate of 72 percent.
But approval of gay male PDAs was similar to support for same-sex marriage (53 percent), which many Americans view as a social construct separate from equal legal rights. And while marriage equality can be achieved in the courts, it seems a significant percentage of straight Americans still won't approve of same-sex relationships on a moral level.
From Al Jazeera America:
"We had civil rights laws long before we had positive attitudes toward ethnic minorities," Doan said, adding that Americans support rights because they see themselves as egalitarian, regardless of their personal views on homosexuality.

"The more informal, subtle types of prejudice linger much longer, because that actually requires people to change their views," he said. …

The survey may offer clues to gay rights activists on the direction of the movement going forward, Doan said. "It would be great to take a more comprehensive approach."

"There's this informal type of prejudice that has primarily been neglected. There's a push for more positive portrayals in the media, but the bulk of what people think of when they think of the gay rights movement is marriage," he said.
Of course, we all know marriage equality isn't going to stop gay youth from being rejected by their families, or LGBT people from being fired by their employers — much of which correllates to the "ick factor."
But the solution isn't just more same-sex PDAs or gay sex on TV. It's for gay people to be not only out, but also open about their relationships.
Before we can do that, though — as the study's finding of lower approval for same-sex PDAs among gays would suggest — we'll first need to fully accept ourselves.