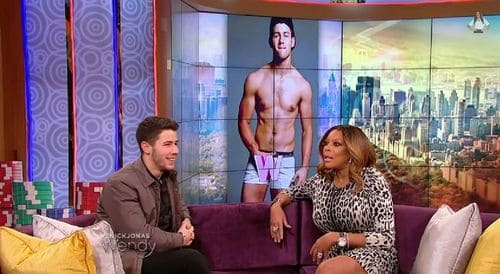 This week has been an especially busy one for Nick Jonas, with the Kingdom star appearing on both The Meredith Vieira Show and The Wendy Williams Show yesterday. And as expected, both interviews managed to keep Nick's new "sex symbol" status at the forefront of everyone's mind.  
On Wendy's show, she revealed that the last time Nick stopped by he was just a little kid with a purity ring. She followed up by asking him if he regretted that chapter in his life and whether he was still a virgin (surprise: he's not).
On Meredith's show (complete with "horny" audience), the two talked about Joe Jonas' photoshopped image of Nick's face on Kim Kardashian's #breaktheinternet nude picture, as well as Nick's status as a "booty man."
Check out both interviews, AFTER THE JUMP…