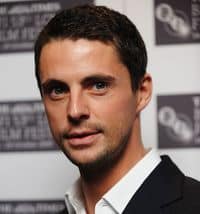 Like his co-star Benedict Cumberbatch, The Imitation Game actor Matthew Goode has spoken out, defending the film's omission of a gay sex scene.
You may recognize Goode from past projects, and if so, you'll know he doesn't shy away from LGBT subject matter — he's made what The Daily Beast describes as "queer turns" in Brideshead Revisited, A Single Man, and Watchmen.
Goode notes that in the example of Imitation Game, not including a sex scene may help bring the film to a wider audience, and he won't be surprised if it opens doors for future Turing biopics. Speaking with TDB, Goode said:
You're damned if you do and you're damned if you don't…I'm glad that we didn't [include a gay sex scene]. There's many things we tried to get right, and I think it would've been too far, in the first film. I'm sure there will be other films about Turing that are 'braver.' But for bringing this story to a greater audience around the world, I think we gave him a film that he deserved.
What do you think of Goode's statement? Planning to see The Imitation Game this weekend? Sound off in the comments.