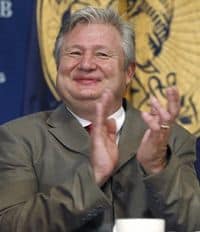 Political spouse, 'doggy sunglasses' shopper, human grapefruit. Like Barbie herself, there are a multitude of roles that Marcus Bachmann has dressed up as throughout his life. But by and large the role he takes the most heat for is his day job as a sexual orientation conversion therapist at his Counseling Care clinic in Minnesota. 
Right Wing Watch reports Bachmann spoke with the "Understanding the Times" radio program this weekend and managed to get all hot and bothered discussing the criticism he and his clinic face just for trying to create "a safe place" for people to overcome their "issue with same-sex attraction"
"We are people of ethics," he explained.
Listen, AFTER THE JUMP…