At an NPR moderated panel on Sunday, Supreme Court Justice Stephen Breyer signaled that the high court had not yet issued its final say on the issue of gay marriage, Politico reports: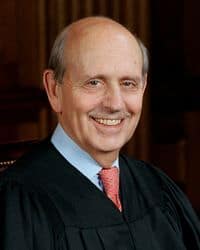 NPR correspondent Nina Totenberg, moderating a panel featuring Breyer, noted that by not accepting the appeals, the status quo of gay marriage was changing in several states. With many same-sex couples now relying on the changes wrought by lower court rulings, the Supreme Court could face a greater challenge to weigh in on the issue in the future.
But Breyer said that "the status quo there changes, you know, so there are plenty of opportunities."
He seemed to be referring to opportunities to consider appeals on same-sex marriage.
With last week's Sixth Circuit ruling creating a split among lower courts on the issue of gay marriage, the court may have gotten the "opportunity" needed to finally take up the issue once and for all. 
Breyer is typically seen as a member of the court's liberal wing.