In a new brief filed in reaction to the Sixth Circuit's anti-equality ruling last week upholding Michigan's gay marriage ban, governor Rick Snyder is arguing the 300 marriage licenses issued to same-sex couples back in March are now null and void. 
The Associated Press reports: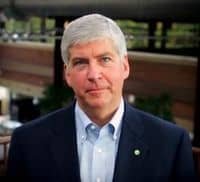 The 6th Circuit Court of Appeals in Cincinnati issued a stay on marriages March 22, but not until after 300 couples had completed the steps to be married.
Afterward, Gov. Rick Snyder said the affected couples don't have the state benefits of marriage. On Nov. 6, the court in Cincinnati upheld Michigan's ban, and those in Ohio, Kentucky and Tennessee.
"Consequently, from a legal standpoint, because the marriages rested solely on the district court's erroneous decision, which has now been reversed, it is as if the marriages never existed, and Plaintiffs' requests for benefits attendant to a legal marriage must be denied," lawyers for the state wrote in the six-page brief.
Attorneys for the plaintiffs in Michigan's gay marriage case are expected to file briefs with the U.S. Supreme Court on Monday. The Ohio and Tennessee marriage cases have already been appealed to the high court. 
Read Snyder's brief below via Equality Case Files: