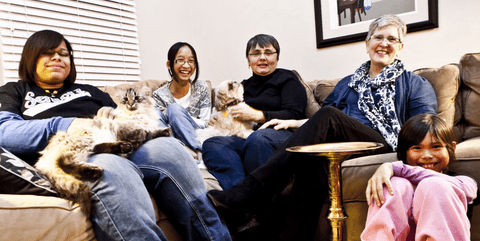 14 years ago, Nebraska voters overwhelmingly approved a ban on gay marriage. Today, the local branch of the ACLU is filing a lawsuit for seven long-term LGBT couples seeking state recognition of their unions. Six of the couples have been married in other states where marriage is now legal, including the lead plaintiffs Sally and Susan Waters. Their case is unusually pressing as Sally Waters (pictured on the right) has been diagnosed with terminal breast cancer.
"It's a fairly gloomy outcome that I've got ahead of me," said Sally. "That made it extra clear that not having our marriage recognized in Nebraska was going to be a hardship for our family."
When Sally dies, her partner will not be eligible for Social Security benefits to take care of their three children. Also, Nebraska's inheritance tax could cause financial stress for the family as well; it's a whooping 18% for non-relatives but just 1% for spouses. The couple, who've been together for more than 20 years, are hoping that with recent rulings across the country and at the Supreme Court, this time their effort will be successful before their time runs out.
In an interview with the Lincoln Journal Star, the couple note that even in a conservative state like Nebraska, the law is lagging far behind how their friends and neighbors have treated them. "I'm not experiencing Nebraska as anything but tolerant and welcoming to our family," said Susan. "The coolness is in the law, not the people."  
Not surprisingly, the state's Republican governor Dave Heineman sees things a bit differently, stating he will fight any attempts to overturn the ban. "Let me also remind everybody, marriage has always been a state's issue," he said today in response to the ACLU filing. "We should reflect the values and beliefs of the citizens of Nebraska, which I have absolutely no doubt remains firmly committed that marriage is between a man and woman."
The case has been assigned to U.S. District Judge Peter Bataillon, the same judge who heard a 2003 challenge to the law. Bataillon tossed out the ban, but Nebraska officials appealed and the 8th U.S. Circuit Court of Appeals upheld the ban. 
Photo courtesy Jason M. McClaren