Simpsons co-creator Sam Simon saves Benjy the Gay Bull from the anti-gay campaign trying to serve Benji on a bun. 

Tom Hardy will be coming to your TV sets.

Al Franken says Ted Cruz has it "completely wrong" on net neutrality: "He just doesn't understand what this issue is. We've had net neutrality the entire history of the Internet, so when he says this is the Obamacare… Obamacare was a government program that fixed something, that changed things. This is about reclassifying something, so it stays the same. This would keep things exactly the same. And the pricing happens by the value of something."

Patrick Schwarzenegger goes for a run with an alluring shirtless friend.

Andrew Garfield's beard is quite large these days.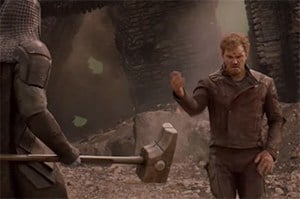 Organic molecules detected by Philae on the surface of the comet it landed upon: "Carbon-containing "organics" are the basis of life on Earth and may give clues to chemical ingredients delivered to our planet early in its history. The compounds were picked up by a German-built instrument designed to "sniff" the comet's thin atmosphere."

1 in 8 gay and bisexual men in London are living with HIV: "Knowing one's HIV status is the key to both effective treatment, and to preventing onward transmission. This is why we are promoting the National HIV Testing Week. The campaign encourages people who are most affected by HIV to take an HIV test. This includes gay, bisexual and other men who have sex with men (MSM) and black Africans in particular."

Chris Pratt challenges evil adversary Ronan to a dance-off in blooper clip from Guardians of the Galaxy.

Ricky Martin, Victoria Beckham and Eva Longoria break cameras with their red carpet stares.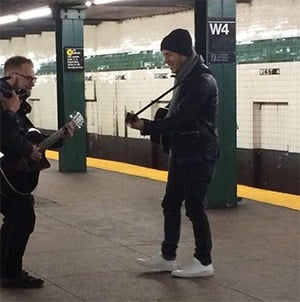 Nick Jonas gives NYC subway riders a surprise performance.

Hactivist group Anonymous takes over the KKK's Twitter account.

The man accused of brutally murdering a Greensboro, North Carolina gay military veteran has been fired from his job working for the city: "The News & Record of Greensboro reports that city spokesman Donnie Turlington says 26-year-old Garry Joseph Gupton was fired from his job in the water resources department on Sunday. Turlington said Gupton had worked for the city since April 2012 and was hired fulltime last year."

One Direction-er Zayn Malik responds to allegations that he has a substance abuse problem: "I'm really angry and upset by what was said on the Today show. I was really ill at the weekend, that's why I couldn't fly to America. I was gutted to have to miss album release day, but I'm going to be back as soon as I can. As soon as I'm feeling better I'm going to join the guys and carry on with the promotion for the album."

Who do you think should be this year's "Sexiest Man Alive"?

Christian homeless shelter in Missouri refuses gay couples because it's "inappropriate": "Our view is that it (same-sex marriage) is inappropriate. Our intent is not to shelter same-sex couples together. We do shelter men who are gay, and lesbian women, and transgender people, although if their birth gender is male, we require them to dress that way if they are in our men's shelter."