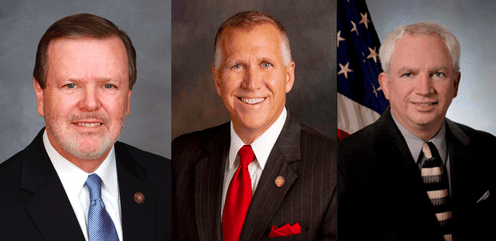 Anti-gay state lawmakers in North Carolina, joined by the National Organization for Marriage, have appealed Judge Max Cogburn's October 10 ruling striking down the state's gay marriage ban to the Fourth Circuit Court of Appeals. 
The News & Observer reports:
Within hours of a split ruling by a 6th U.S. Circuit Court of Appeals panel upholding gay marriage bans in four states, attorneys for North Carolina legislative leaders filed notice in the federal courts of their plans to appeal rulings in North Carolina that struck down a gay marriage ban. The court document, filed by John C. Eastman [right], a California lawyer and chairman of the National Organization for Marriage, outlines the plans of Phil Berger [left], president pro tem of the N.C. Senate, and Thom Tillis [middle], speaker of the state House, to appeal a ruling in October by U.S. District Judge William Osteen Jr. that nullified a 2012 amendment to the state constitution defining marriage as a union between a man and a woman.
With the Fourth Circuit having already settled the gay marriage debate via its Virginia ruling in July, all signs point to this being a fruitless effort, but at least Tillis is getting to tout his anti-gay credentials before being sworn in as the state's new U.S. senator in January…
Read the notice below via Equality Case Files: