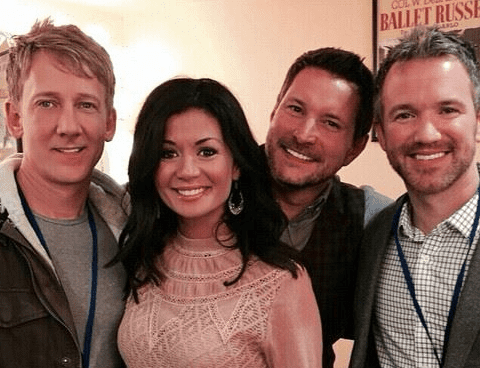 Ty Herndon hanging with friends backstage at the Grand Ole Opry after Monday's show (Via Facebook fan page)
Country singer Ty Herndon has been feeling the love after his surprise coming out last week. In a follow-up interview with People magazine, he says the positive reaction he's received "blew my mind" and he's been overwhelmed by the support he's gotten from his fans as well as out show folk like Ricky Martin, Lance Bass, Chely Wright and even Leann Rimes. 
Since his statement last week, Herndon has had two public performances filled with emotion, tears, and even a little bit of history. Herndon's first performance after his surprise announcement last week was to a sold out crowd in Robinson, Illinois on Saturday night. It was, he said, an emotional show that ended with a standing ovation. Then on Monday night, Herndon took part in a Christmas benefit for kids at the Grand Ole Opry making him the the first out male country artist to appear on the famed stage.
"My knees were shaking!" he recalled, choking up a bit. "Walking out on the Grand Ole Opry stage as an open, free, happy, godly gay man is not something I thought I'd see in my lifetime. We knew that history was being made up there, and it was humbling."
As he adjusts to his new role as an out/loud/proud performer, Herndon states he is also looking forward to being a force for change in parts of the country where being gay is still a challenge. "There's so much work to be done in the South with all these kids that are struggling so greatly with finding love and support and finding a place to go to feel loved and supported." 
Herndon says he is feeling especially thankful this Thanksgiving week for all the support he's received and is looking forward to spending a quiet holiday in Nashville with his family and his partner.