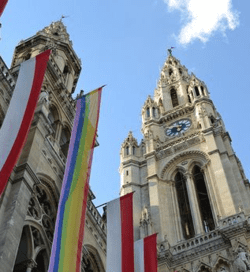 Earlier this year the Windwood Presbyterian Church of Houston, Texas made the decision to begin distancing itself from the Presbyterian Church as a whole due to differing view on homosexuality. In a 429-175 vote during its biennial General Assembly held in Detroit this past June, the Presbyterian Church of the USA moved to allow its pastors to officiate over same-sex weddings. The Church's decision to recognize the legitimacy of gay unions is at odds with the Windwood congregation's more traditional views.
The two religious bodies have been embroiled in a legal battle for the better part of the past eight years over the rights to ownership of the Texas-based church's land. Because Windwood has publicly expressed its desire to be disassociated with the greater Church, Presbyterian leaders are calling for Windwood to pay for access to the land its churches are built upon.
Windwood's leadership asserts that it has legal right to the land without needing to compensate the church. Windwood, believing that it owns the disputed land, has been involved in an ongoing legal dispute with the Presbyterian Church.
"We have been involved in a lawsuit over the ownership of the property since 2008 and that suit is still in process," explained Reverend Kevin Rudolph of the Windwood church.
At the heart of the spat over ownership to the land is a trust clause commonly associated with the financial handling of church property. The clause relating to the land Windwood is built upon states that "all property held by or for a particular church is held in truth nevertheless or the use and benefit of the Presbyterian Church (U.S.A.)"
Windwood is but one church formerly associated with the Presbyterian Church that has brought its claims to court in hopes of settling its differences and retaining claim to its physical property. Earlier this year the Highland Park Presbyterian Church similarly made the decision to separate from the Presbyterian Church as a whole and sought to avoid paying for their church grounds as mandated by the trust clause. Highland Park ultimately ended up settling out of court with the Church to tune of $7.8 million dollars.
"We do not believe that Highland Park's case has any direct effect on Windwood's litigation," said Cindy Pirtle, Woodland's director of adult discipleship "Each church comes with its own set of circumstances and history."