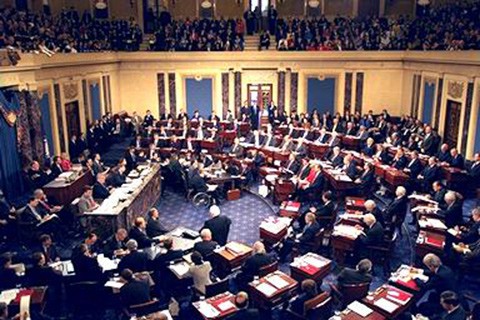 The Associated Press reports that the GOP has gained control of the Senate giving the Grand Old Party control of both the lower and upper houses of Congress.  
BREAKING: Republicans cinch control of US Senate.

— The Associated Press (@AP) November 5, 2014
Democrats' night got off to a rocky start with Alison Lundergan Grimes losing in Kentucky to Senate Minority Leader Mitch McConnell. From there, Senator Mark Udall (D-CO) lost in Colorado while Jeanne Shaheen managed to squeak out a victory against carpet-bagger Scott Brown. Mary Landrieu meanwhile will face a runoff against Republican challenger Bill Cassidy.
In Kansas, Republican Pat Roberts defeated Independent challenger Greg Orman. Republicans also saw victory in Georgia, with David Perdue winning his bid for one of the state's two U.S. senate seats. 
In Clinton country (a.k.a. Arkansas), Democratic Sen. Mark Pryor lost his Senate seat to Republican newcomer Tom Cotton. 
NBC News has just called Iowa's Senate race for Joni Ernst, further guaranteeing Republicans control of the Senate. Ernst won former Democratic Senator Tom Harkin's seat that was vacated when he announced he would not seek reelection. 
UPDATE: The New York Times reports that the GOP has picked up at least 7 seats in the U.S. Senate, held on to hotly contested governors' mansions, and increased their lead in the House of Representatives by at least 10 seats: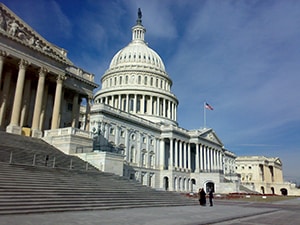 Propelled by economic dissatisfaction and anger toward the president, Republicans grabbed Democratic Senate seats in North Carolina, Colorado, Iowa, West Virginia, Arkansas, Montana and South Dakota to gain their first Senate majority since 2006. Senator Mitch McConnell of Kentucky, a shrewd Republican tactician, cruised to re-election and stood poised to achieve a goal he has pursued for years — Senate majority leader.
An election that started as trench warfare, state by state and district by district, crested into a sweeping Republican victory. Contests that were expected to be close were not, and races expected to go Democratic broke narrowly for the Republicans. The uneven character of the economic recovery added to a sense of anxiety, leaving voters in a punishing mood, particularly for Democrats in Southern states and the Mountain West, where political polarization deepened.
The biggest surprises of the night came in North Carolina, where the Republican, Thom Tillis, came from behind to beat Senator Kay Hagan, and in Virginia. There, Senator Mark Warner, a former Democratic governor of the state, was thought to be one of the safest incumbents in his party, and instead found himself clinging to the narrowest of leads against a formerRepublican Party chairman, Ed Gillespie.