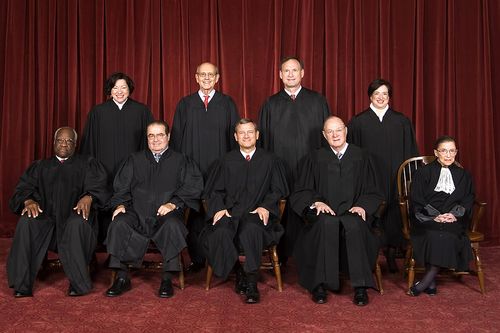 The U.S. Supreme Court has denied Kansas' request for a stay of a lower court's decision striking down the state's ban on same-sex marriage, effectively allowing same-sex couples to say "I do" in the Sunflower State. Justice Sonia Sotomayor had granted a temporary stay of the lower court's ruling until the entire Supreme Court could review the matter. Buzz Feed reports:
Justices Antonin Scalia and Clarence Thomas would have granted the stay, according to the brief order issued by the court's Public Information Office a little past 5 p.m. ET Wednesday.
On Nov, 4, U.S. District Court Judge Daniel Crabtree struck down Kansas' ban as unconstitutional, putting the ruling on hold until 5 p.m. CT Nov. 11.
In the meantime, the state sought a stay pending its appeal from the 10th Circuit Court of Appeals, which denied the request on Nov. 7. On Monday, state officials sought a stay from Sotomayor, who oversees such requests out of the 10th Circuit. Sotomayor issued a stay, pending further order by her or the court.
After the same-sex couple plaintiffs filed a response with the court opposing the stay on Tuesday, the court was silent. Crabtree's temporary stay expired, and all that remained was word from the justices.
On Wednesday, the court answered, with the justices denying the stay request and vacating, or ending, Sotomayor's stay.
With the order issued before 5 p.m. CT, Kansan same-sex couples could yet marry on Wednesday.
BuzzFeed's Chris Geidner posted an update to his original story, noting that the decision by Justices Scalia and Thomas to make their dissent known was noteworthy as the pair had not done so in similar reviews pertaining to stays on gay marriage in Idaho and Alaska:
In Kansas' request to the justices, they pointed to two distinctions that could have explained the reason why Scalia and Thomas would have granted the stay. First, the state noted pending state court litigation, arguing that the federal court should not have proceeded with the case at all. Additionally, the state pointed to the recent decision of the 6th Circuit Court of Appeals to uphold the ban same-sex couples' marriages in four states, asserting that the court should issue a stay in their case because it was now likely that the justices would be hearing a case on the constitutional marriage question.
Developing…
Read the Supreme Court's order, AFTER THE JUMP…