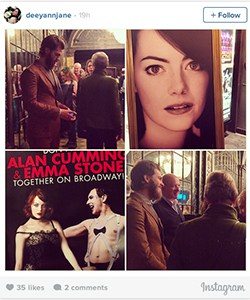 Sarah Jessica Parker, Bette Midler, and Kathy Najimy are all in to make a Hocus Pocus sequel. Waiting on Disney's response.

Emma Stone debuted as Sally Bowles in Cabaret on Broadway last night. Her beard showed up to support her.

Robin Wright calls off engagement to Ben Foster.

Madonna's Like A Virgin turns 30.

Adam Lambert wonders, "Anyone find it interesting how straight male Pop stars r pandering to gay audiences lately!? Should we be flattered? Progress or strategy? No shade. I just wanna hear about music! Not be teased on weather someone MIGHT be bi curious or gay or straight. Who cares?! Lol"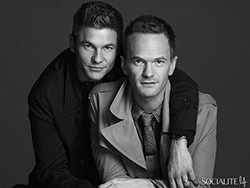 Neil Patrick Harris and husband David Burtka bring their handsomeness to ad campaign for London Fog.

Time asks, which word (phrase?) should be banned in 2015? I can't even right now.

Looks like Kathy Griffin won't be taking Joan Rivers' place on Fashion Police after all. 

Have archaeologists unearthed the tomb of Alexander the Great's rumored lover and known best friend Hephaestion?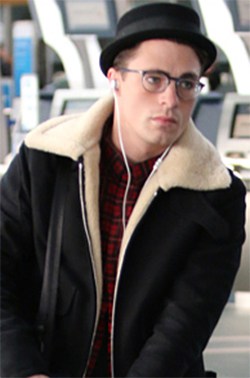 Colton Haynes proves that guys will make passes at guys who wear glasses.

MTA fare hike may be coming to New York: "The MTA board will decide between the two fare scenarios, one of which would keep the base fare at $2.50 but trim the MetroCard bonus; while the other would raise the base fare to $2.75 but increase the bonus. Monthly and weekly MetroCards would cost $116.50 and $31, respectively, under both models."

An 'Aunt May' Spider Man spin-off reportedly in the works.

Earthquake hits Kansas same day marriage equality arrives.
YouTube to offer a subscription streaming service.
CNN to stop broadcasting in Russia: "Concerns are strong about media freedom in Russia as the government has taken control of all major domestic television stations and the independent-minded Echo of Moscow radio station has come under pressure."

Australia adds graphic labels on cigarette packets intended to stop smoking.