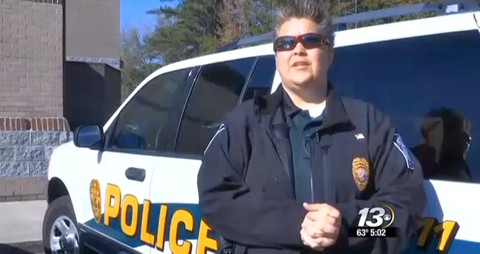 It's not often we get to say this, but it's a great week to be gay in the Palmetto State.
Not only is South Carolina's LGBT community celebrating the arrival of marriage equality, but WBTW Channel 13 reports that the town of Latta — where lesbian police Chief Crystal Moore (above) was fired, then rehired in April — has added LGBT job protections for its workers.
The new policies, which prohibit discrimination and harassment based on sexual orientation and gender identity, are a direct response to the controversy over Moore, who claimed she was fired by Mayor Earl Bullard for being gay.
Bullard issued Moore seven reprimands in one day, the first in her 20-plus year career. But he denied he fired her for being gay, even though Councilman Jared Taylor provided a recording to a TV station in which Bullard said he'd rather have an alcoholic take care of his kids than a gay person with a "questionable" lifestyle.
The town's residents and council members rallied to Moore's defense, with voters quickly approving a measure weakening the mayor's powers. When Bulllard tried to hire someone to replace Moore, the council blocked him and rehired her instead.
The new nondiscrimination policies were actually approved last month, and Latta becomes the smallest city in South Carolina with LGBT job protections, joining Charleston, Columbia, Myrtle Beach, North Charleston and Richland County, according to WBTW.
Councilman Taylor, who leaked the recording of Bullard, said the policies wouldn't have passed if it weren't for the town's support for Moore:
"We don't care what you are or what you believe in," Taylor said. "If you get the job done, you're adequate at your job and you excel at your job, we feel like you should have an opportunity to work and live in our community." …

"Our community rallied around the individual for who she was instead of what she was."
Of course, there still are no federal or state job protetions for LGBT workers in South Carolina, which Moore called "crazy."
"As long as I do my job and it doesn't interfere, my personal life should be just that: My personal life," Moore said. "The town passing an ordinance is just one step to making sure everyone is equal."
The nondiscrimination policies passed 6-0, but shockingly, Mayor Bullard was not present to vote on them. Maybe he couldn't find a baby-sitter.
Watch WBTW's report, AFTER THE JUMP …