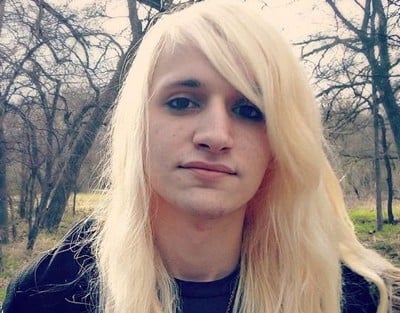 After relentless bullying at her high school in Texas, transgender teen Alex DeChiara (above) transferred to an alternative school in April. 
But switching schools cut 17-year-old Alex off from her closest friends and her biggest passion: working with special-needs children at Euless Trinity High School, in a conservative suburb of Fort Worth. Alex hoped to one day become a teacher for autistic kids. 
After Alex transferred schools, administrators at Euless Trinity even barred her from campus and threatened her with arrest when she tried to visit. Faced with loneliness and a deepening depression, Alex felt she had nowhere to turn. On May 8, she hung herself from a tree in her family's backyard. 
Alex's father, Rick DeChiara, who came home from work to find Alex and had to cut her down from the tree, told the Texas Observer this week he feels there are a fair amount of resources dedicated to gay youth. But he added: "As far as transgender awareness kind of stuff, that's a different story. I don't think that's quite as popular, as out there in the open." 
Now, a San Francisco-based group is hoping to help change that — and to stem the epidemic of trangender suicides like Alex's. According to Greta Gustava Martela (right), the founder of Trans Lifeline, half of people who are openly transgender will attempt suicide at least once in their lives. 
Trans Lifeline is a first-of-its-kind, nonprofit crisis and suicide hotline staffed by transgender people. 
"There are a ton of suicide hotlines. There's no shortage of them," Martela told Time.com. "But it's really difficult to get a person who isn't trans to understand what it's like to be trans."
According to Trans Lifeline's website: "Our hotline is staffed by the true experts on transgender experience, transgender people themselves. Our volunteers are all trans identified and educated in the range of difficulties transgender people experience." 
Although the hotline's goal is to prevent self-harm, it is open to any transgender person in need — as well as the parents of transgender children. 
After a surge in calls thanks to the Time.com story this week, Martela launched a GoFundMe page to help pay for training for additional volunteers. Those interested in volunteering for Trans Lifeline can learn more here. 
The hotline covers the US and Canada and is staffed by volunteers outside the Bay Area.
For those in crisis, the number is 877-565-8860.