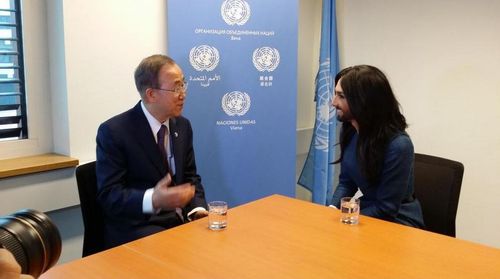 This morning in Vienna, U.N. Secretary-General Ban Ki-moon hosted a meeting with Eurovision's Conchita Wurst. Reunters reports Secretary-General Ban praised Wurst for her talent, as well as what she represents from a human rights perspective.
Despite the UN's somewhat uneven track record on gay issues, this news is the latest in a consistant trend of good news for LGBT people out of the U.N.
Secretary-General Ban thanked Wurst for turning Eurovision into a "moment of human rights education." 
Said Ban: 
This year I extended benefits to same-sex partners of U.N. staff members… Discrimination has no place in the United Nations…When I heard that [Wurst] won this Eurovision song contest I immediately knew that she was a star of the world.
Reuters points out Ban's endorsement is particularly meaningful at a time when global tensions over LGBT issues are rising. They quote a confidant of Russian President Vladimir Putin, who criticized Wurst, saying she symbolised "ethno-fascism," and a "decadent agenda" that the West tries to impose. 
[photo via Twitter]