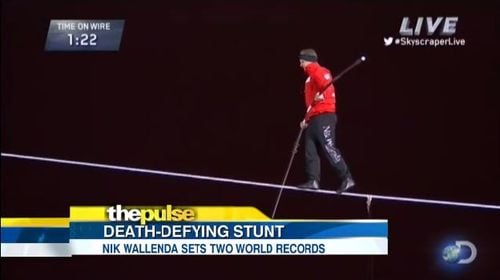 Daredevil Nik Wallenda managed to complete two death-defying tightrope walks between two Chicago skyscrappers Sunday night, ABC News reports:
Wallenda crossed a distance of 454 feet from one skyscraper to another, all at a 19-degree incline, an angle four degrees steeper than the 15-degree practice tightrope. The tightrope began at 588 feet from the ground and ended at 671 feet.
"That cable looked like it was going straight up," he said.
The second leg of his performance featured a 94-foot walk between two towers, blindfolded and 543 feet from the ground. 
were you watching?! 😱 #SkyscraperLive pic.twitter.com/HnWhi4fw9u

— Skyscraper Live (@SkyscraperLive) November 3, 2014
Insane, adventurous or maybe a bit of both? You be the judge.
Watch, AFTER THE JUMP…
Back in 2012, Wallenda became the first person to ever cross Niagara Falls on a high wire.

More ABC US news | ABC Health News