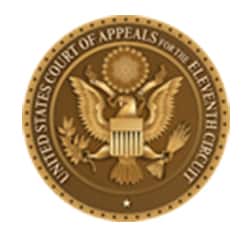 The 11th Circuit Court of Appeals on Wednesday refused to extend a stay of a lower court's decision striking down Florida's ban on same-sex marriage. The 11th Circuit's decision means that same-sex couples in Florida will be able to wed at "at the end of the day" on Jan. 5. unless the Supreme Court intervenes. The Washington Blade reports:
In a three-page order, a three-judge panel on the U.S. Eleventh Circuit Court of Appeals granted expedited review of a request from Florida officials to extend the stay as litigation proceeds against the state's ban on gay nuptials, but determined the hold on Florida same-sex marriages should come to an end.
"Having reviewed and fully considered the Motion, the parties' briefs, and the orders issued by the District Court in the proceedings below, the Court hereby denies Appellants' Motion," the order states. "The stay of preliminary injunctions entered by the District Court expires at the end of the day on January 5, 2014." The three-judge panel that lifted the stay consists of U.S. Circuit Judge Frank Hull, a Clinton appointee; U.S. Circuit Judge Charles Wilson; another Clinton appointee; and Judge Adalberto Jordan, an Obama appointee. 
Florida Attorney General Pam Bondi has sought to keep the stay on District Judge Robert L. Hinkle's ruling in place. Whether the U.S. Supreme Court will now take up Bondi's case for maintaining the stay will depend on conservative Justice Clarence Thomas:
U.S. Associate Justice Justice Clarence Thomas, who handles stay requests for the 11th Circuit. Thomas could decide the matter himself or refer it to the entire court. If the stay request is made before the high court, it would be the first one from a judicial circuit that has not ruled on marriage equality since the Supreme Court refused federal appeals rulings in favor of same-sex marriage. Although the Supreme Court has recently denied stays on same-sex marriage in Idaho, South Carolina and Alaska, the lack of a federal appeals court ruling on Florida's marriage law makes the high court's actions on a stay more uncertain. 
Read the ruling in full, AFTER THE JUMP…