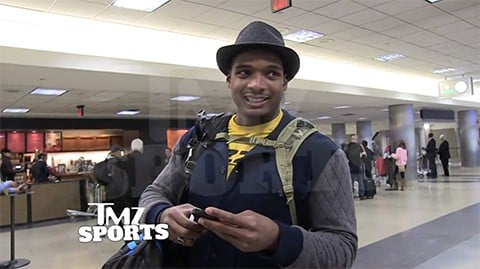 Michael Sam, who became the first openly gay player in the NFL this year, first being drafted by the St. Louis Rams then later being picked up by the Dallas Cowboys' practice squad only to be cut not too long after, hinted today that being openly gay is the reason he is not currently playing in the NFL. From TMZ:
Sam was at LAX this morning when he was asked if he thinks NFL teams are shying away from him because of his sexual orientation … or if it has to do with the level of talent he faced after college.
"I think I was the SEC Defensive Player of the Year last year … so I don't think it had to do with talent."
Translation — he believes he's on the outs because he's out.  
Sam also made mention that the once in-the-works Oprah produced reality show about his life will likely not be moving ahead. 
Watch as Sam tackles TMZ's barrage of questions with the grace under pressure he's become known for, AFTER THE JUMP…
And be sure not to miss Sam's boyfriend Vito's cameo at the end!