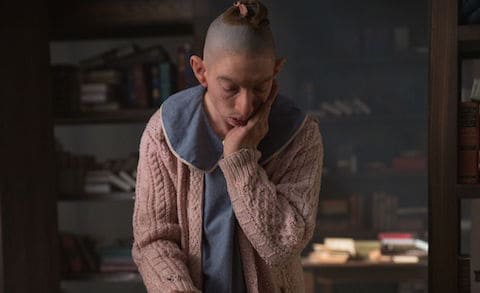 If this was American Sob Story: Freak Show, tonight's episode would have been stupendous. However, tonight's exposition-heavy hour (and then some) fell far short in the whole 'horror' department, with nary a scare to be found. Instead, we heard lots of back story, lots of history.
As a self-contained arc for two-time AHS character Pepper (Naomi Grossman), it was an excellent showcase, making Pepper one of the purest (and most tragic) figures ever on this show. Grossman's performance pushed through all the prosthetics to deliver something raw and relatable, even without her character's ability to articulate her feelings. But as a fall finale, there was much to be desired. Yes, besides the excellent Pepper story, we did move a few major pieces into places, but nothing too surprising.
Let's dig into the details, AFTER THE JUMP …
We start off with some sad news. Pepper's companion Salty (Christopher Neiman) has passed away in his sleep. Usually, "pinheads" don't live much past 40, so Salty's passing doesn't seem suspicious. Natural or not, Pepper is inconsolable.
After reading Pepper a story, Desiree (Angela Bassett) goes to speak with Elsa (Jessica Lange). Ms. Mars regales the three-breasted woman with the story of her freak show's humble beginnings. Elsa was working at the circus, but after the war broke out, she knew that the men would be overseas and the women would be working the factories, so the freaks would have to entertain the masses. Determined to start her own freak show, Elsa sets out to find some acts.
First, she hits up the orphanage, where she finds an 18-year-old Pepper abandoned by her sister. Elsa takes her in and begins to teach her. It's not long before Pepper's biological clock starts a-ticking. Conveniently that's when Ma Petite (Jyoti Amge) shows up on the grounds with her keeper, who sells her to Elsa for three cases of Dr. Pepper. Even with Ma Petite around to exercise her maternal instinct, poor Pepper still wants love. That's when Elsa begins a search that eventually leads her to Salty. The two "pinheads" fall in love immediately, Elsa officiates a wedding and the pair is inseparable.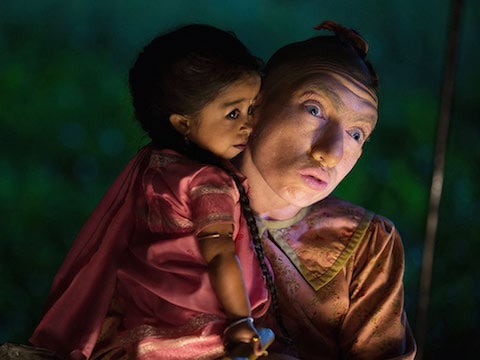 Now that Salty and Ma Petite are gone, Pepper is all alone. She won't leave the side of Salty's body. Eventually, Elsa is convinced to hand the corpse over to Stanley (Denis O'Hare), and she decides it's best to see if Pepper's sister would take her back now that she's matured.
Too bad Pepper's sister is the worst! Just the absolute worst! You may recognize the actress playing her, Mare Winningham, as the incestuous mother of Evan Peter's Kyle on Coven. And yet? She's somehow playing an even more despicable character here. At first, she's reluctant to take Pepper back in. She originally abandoned her at the orphanage because she thought having Pepper around would impede on her desires for a husband and family. Since then, she's found the husband, but had trouble getting pregnant.
She agrees to take Pepper in, but later Pepper's sister and husband have a baby. The baby is deformed, and most of the childcare burden falls on Pepper while her sister is a lazy layabout, lying around swilling cocktails. Her husband is equally useless, but far crueler. They devise a plan to rid themselves of Pepper and the poor child. The husband murders the baby, blames it on Pepper, leading us to …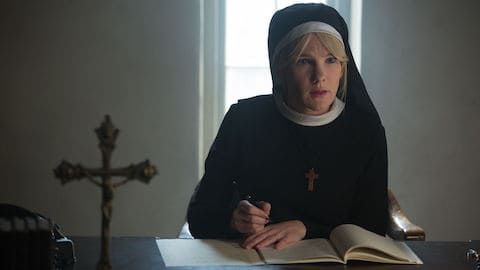 Briarcliff! You remember Briarcliff. It was the setting of American Horror Story season two, Asylum. Pepper's awful, awful sister tells Sister Mary Eunice (Lily Rabe) that Pepper is dangerous and murdered her son (she also suggests Pepper seduced her husband, which may or may not mean her husband was also raping Pepper). Regardless, Pepper is left in the care of Briarcliff. Sister Mary Eunice sees the innocence in Pepper (which she mistakes for remorse) and assigns her to the library. Pepper starts stacking magazines, including a Life Magazine with Elsa "TV Star" on the cover.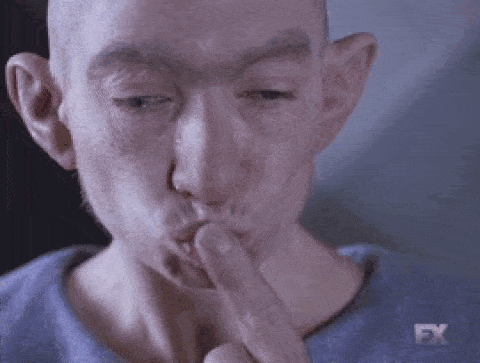 Meanwhile, poor Jimmy (Evan Peters) is still in prison. He gets a little visit from Stanley who seems to be there out of the goodness of his heart. But, you guys, we know better by now, right? First Stanley dangles the hope of getting Jimmy a good defense lawyer. Of course, that lawyer is going to need to be paid a hefty retainer. Well, Jimmy doesn't have any money. Ah, Stanley, suggests while staring at Jimmy's hands, but you do have something valuable.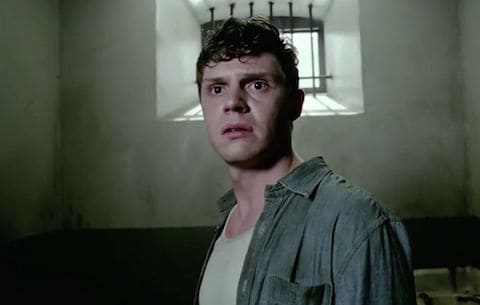 Back on the grounds, Desiree and her bae Theo Angus (Malcolm-Jamal Warner) come to Maggie (Emma Roberts) for a reading. Their adorable cute couple-ness rubs Maggie the wrong way, so she gives them a sort of goth-teen's version of a fortune telling. Love hurts, life sucks, etc. Not exactly the sort of sexy fun they were expecting.
Maggie goes outside to pout and drink, and that's when Desiree shows up. Broken-hearted and pickled-livered, Maggie begins to confess that she and Stanley are con artists, working together since Maggie was a kid. She stops short of revealing their plan to kill all the performers. Instead, she says they came to pick the pockets of the audience. Desiree ain't buying it. She warns Maggie that if she finds out she's behind the recent deaths of Ma Petite, Ethel, etc., she will kill her dead.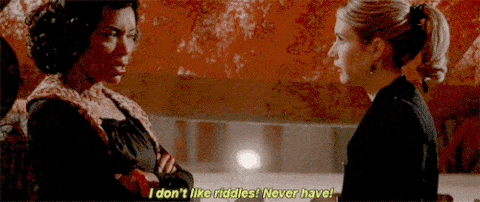 Bette and Dot (Sarah Paulson and Sarah Paulson in a wig) approach Maggie with their savings to hire Jimmy a lawyer. She's still all drunk and morose and sassy, but the twins are persistent. They lay down the law and tell her, in essence, "Listen, pretty lady, people tend to not run screaming from you, so you're going to take our money and fix this for Jimmy."
Maggie has a bigger plan, though. She recruits Desiree to take her to the morbidity museum. She needs a witness in case something happens to her once they reveal the real villain. They arrive and see Ma Petite on display. Then Salty's severed head. Then, finally, what appears to be the hacked off hands of Jimmy Darling! It's enough to make Maggie faint!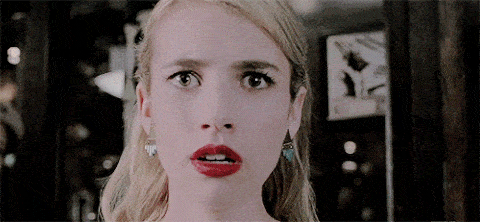 So, now what? What do you think is going to happen now that Stanley's secret is exposed?