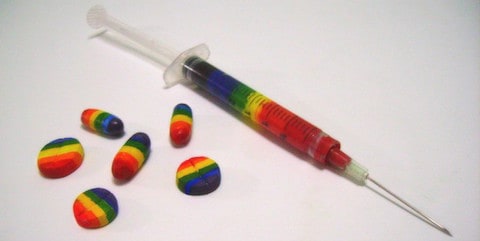 The anti-vaccination movement has officially hit peak crazy. As if the movement weren't absurd enough on the face of it all, the vactruth.com Facebook page is asking the 'legitimate' question of "Do you think vaccinating a child with vaccines, that are made up of endocrine disrupting chemicals, can affect the outcome of a person's sexuality?"
As the New Civil Rights Movement points out, "Not all questions, actually, are legitimate."
If one were to be charitable, this discussion could be interpreted as people who have just enough knowledge of medicine and science to be dangerous making connections that don't exist and getting worked into a frenzy over it. More likely, however, is that the anti-vaxxers are using homophobia as another scare tactic to turn parents away from inoculating their children. Because, as we all know, one of the side effects of being made immune to rubella is a 10% likelihood of an increase in fabulosity.
Besides, even if this delusional train of thought actually had any basis in reality, given that the earth's current population is presently well beyond sustainable levels a sudden global surge of non-reproducing 'mos would do the planet a world of good.