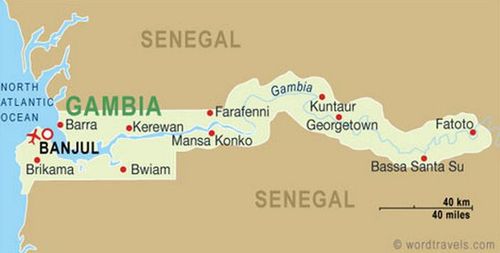 The West African nation The Gambia has begun rounding up and arresting individuals suspected of being gay, BuzzFeed reports.
Gambian media outlet the Daily Observer reports that at least three individuals have already been arrested on suspicion of homosexuality. You'll recall that The Gambia criminalized "aggravated homosexuality" earlier this year with punishment up to life in prison. The Gambia's President Yahya Jammeh has become infamous for his virulently homophobic remarks, calling gays "vermin" than need to be killed like malaria-infected mosquitoes and threatening to kill any LGBT Gambians seeks asylum in the West. 
A member of The Gambia's National Intelligence Agency (NIA) spoke with the Daily Observer about the arrests, providing a statement rich in homophobic bile:
"We arrested some and others are beyond the territory, but that would not stop us from operations. During the investigations, suspects confessed that they were truly engaged in the act of homosexuality. 
They further revealed that most them started homosexual act between the ages of nine and ten. The investigation also revealed that the suspects were introduced to the homosexual act by friends, most of whom are non-Gambians. The suspects said they depended on them for financial support. The suspects were engaged in the activities to the point where they became addicted and could no longer stop".
The intelligence officer, who affirmed that the practice is against the law, added: "The suspects continued on with the activity and along the line they met other people who they associated with to engage in the activity". 
The officer called on the general public to be vigilant and discourage activities he described as "inhuman, un-Gambian and condemned by all religions". 
"Landlords, bar, restaurants, and hotels owners, amongst others, should also take responsibility to monitor extra activities that happen in their environment. The act is illegal and we will leave no stone unturned to ensuring that it is not practiced in The Gambia. Whoever is caught will face prosecution," the officer concluded.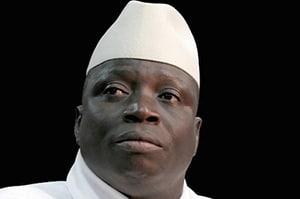 Meanwhile, BuzzFeed reports that the number of individuals arrested since November on suspicion of homosexuality in The Gambia could be as high as 13. BuzzFeed also reports that The Gambia may be ratcheting up its anti-gay rhetoric in an attempt to woo allies in and aid from the Middle East, with particular attention being paid to Qatar and its leader Emir Sheikh Tamim bin Hamad Al-Thani:  
Last fall, Jammeh pulled the Gambia out of the Commonwealth of former British colonies. That was just days after declaring at the United Nations in New York, "Those who promote homosexuality want to put an end to human existence. It is becoming an epidemic and we Muslims and Africans will fight to end this behavior…. Homosexuality in all its forms and manifestations which, though very evil, antihuman as well as anti-Allah, is being promoted as a human right by some powers."
In September, just after a months-long confrontation between Uganda and donor nations over a sweeping anti-LGBT law enacted in February was brought to an end when Uganda's Constitutional Court nullified it on procedural grounds, Jammeh's government passed a law imposing a lifetime prison sentence for "aggravated homosexuality" that appeared to be closely modeled on some of the Ugandan law's most controversial provisions.
Fatou Camara, who briefly served as Jammeh's communications director and hosted a Gambian television program before she was charged with sedition and fled to the United States, noted that the current wave of arrests took place just before Jammeh made a state visit to the Persian Gulf state of Qatar. While there, he signed a cooperation agreement with Qatar's leader, Emir Sheikh Tamim bin Hamad Al-Thani.
Camara said that she spoke with sources who accompanied Jammeh on the visit, and that they told her he was using this issue to make the case for Qatari support. "This is one point he used to talk to the emir: 'I cannot get along with the West because they want [me] to promote homosexuality,'" she said.