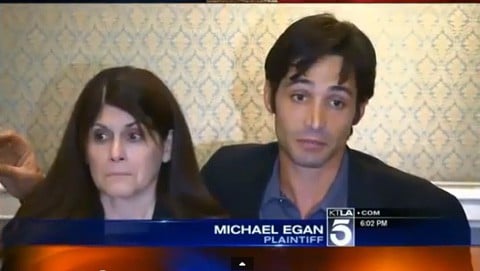 Michael Egan, who earlier this year accused X-Men director Bryan Singer and other high profile entertainment executives of drugging and raping him when he was a teenager as part of a "Hollywood sex ring" targeting underage boys, has been indicted on investment fraud charges.
The Charlotte Observer reports:
In the indictment handed down in Charlotte this week, Egan is accused of a five-year financial scheme in which he attracted investors by lying about his assets – Egan claimed he owned percentages of well-known hotels and casinos in Las Vegas, among other claims – and his connections to banking executives and investment moguls.
He promised customers returns from investments in Halloween-theme attractions, television shows and land development. Instead, Egan used the capital to pay rent, buy groceries, underwrite medical bills and restaurant tabs, and take care of his pets, prosecutors say.
Egan hid his activity, investigators say, by creating account statements to reflect fraudulent balances.
The indictment charges him with securities fraud and wire fraud. He is to appear before U.S. Magistrate Judge David Cayer on Jan. 13.
Egan faces up to 40 years in prison and a fine of $5.25 million if convicted.
Back in August, Egan's suit against Singer was voluntarily dismissed.