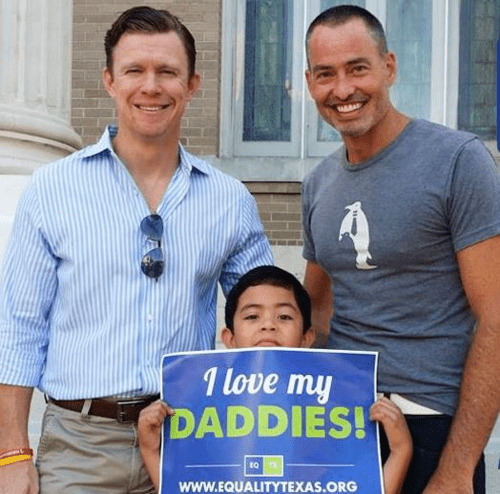 The founders of a popular support network for gay dads are taking on a Texas law that prohibits them from having both of their names on their son's birth certificate. 
Austinites Andy Miller and Brian Stephens (above and below), founders of The Handsome Father, say the law is "mean-spirited" because it punishes their son, 7-year-old Clark, for something over which he has no control. From The Texas Observer: 
"As he got older, it became less about us and it became more about him," Miller said. "This is his document that he'll carry with him the rest of his life, and it very clearly only lists half of his family on it, and that's when we kind of became angry and said the state is treating our son differently because of who his parents are, not because of anything he has done or hasn't done. This needs to change because of our kids. The state is basically targeting them for unequal treatment."
Acting in the name of "conservative values," the Texas Legislature decided in 1997 to require supplemental birth certificates issued to adoptive parents to have the name of one man and one woman. Texas is one of a handful of states with similar laws, and marriage equality won't solve the problem. 
On Wednesday, lawmakers in the state House and Senate introduced bills to overturn the law. State Rep. Rafael Anchia, D-Dallas, told the Observer: 
"I think if you asked every member of the Legislature, they would say they care about orphaned children, and if we can get them to understand that this bill is about children and not about who their parents are, then that should carry the day. There's no doubt that this policy has cruel effects."




Daniel Williams, legislative specialist for Equality Texas, called the law "the lowest form of politics possible — if you don't like someone, attack their children."
A few years ago, Lambda Legal challenged a similar law in Louisiaina, but lost the case when the U.S. Supreme Court declined to hear it. 
Equality Texas is calling on people to contact their legislators in suport of the bills.