Russia's institutional homophobic bigotry makes another step forward with the classification of LGBTI group Rakurs, an Archangelsk-based organisation dedicated to LGBTI rights, as a "foreign agent" by the Russian Ministry of Justice this past Monday.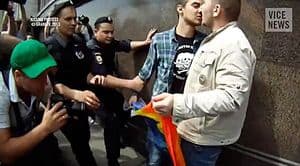 A statement from ILGA-Europe reads in part:
Since November 2012, NGOs involved in what is vaguely defined as "political activity" and who are in receipt of funding from abroad have been subject to increased scrutiny from Russian authorities. Many Russian organisations refused to register themselves as "foreign agents", a term loaded with stigma. However, amendments to the legislation made during the summer mean that NGOS can now be unilaterally added to the list of "foreign agents" by the Ministry of Justice, without their consent.

Since June 2014, 18 NGOs have been registered in this manner. This includes Rakurs, the first LGBTI organisation on the list.
We reported this past summer on LGBT group Coming Out also receiving this designation, which subjects groups to extra governmental audits, additional regulations, and strips them of the ability to attempt to affect any change within the government.