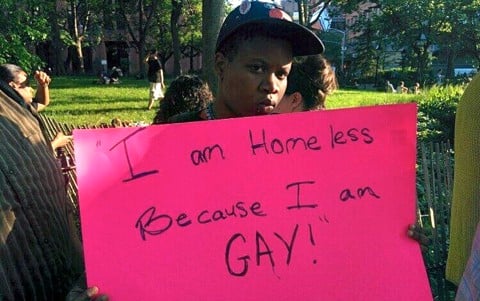 Growing up in a small town in the Texas Panhandle, Sandra Whitley says she knew she was gay from the age of 13 — in 1975.
"I thought I was the only person in the world that had these feelings," Whitley writes. "As much as I tried to keep it a secret, it was not long until my classmates, the town, and my parents knew. The parents of my classmates would not let their children associate with a homosexual. I no longer had friends. I was the talk of the town and my parents were not pleased. The school board tried to expel me from school. I was very lost and had no one to talk to."
Whitley (below right) said she considered running away but ended up in a mental hospital.
"As horrible as that place was and as angry as I was when I got out (and for years to come), I did not end up on the streets," Whitley writes. "As my life continued, I was always in trouble for being gay.  My relationship with my parents suffered for 20 years. I often said my only crime has been being gay."
Whitley moved away from Texas for two decades before returning to San Antonio, where she's owned a business for the last 20 years.
Now, Whitley plans to open a homeless shelter in San Antonio exclusively for LGBT youth, one of the few of its kind in the nation. Whitley will serve as executive director of the Thrive Youth Center, and initially, is underwriting many of the shelter's expenses.
"I want these kids to know there is hope and they are not alone," Whitley writes. "They can lead happy and productive lives. We are here to help them discover their dreams and fulfill them!"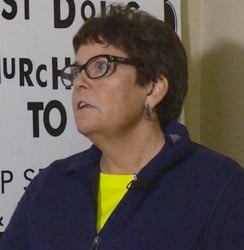 The Thrive Youth Center was initially scheduled to open at Travis Park United Methodist Church downtown in November, but the opening has been delayed until at least January due to a zoning problem, KENS-TV reports.  
Whitley told Towleroad the city notified her the day the shelter was scheduled to open — after a report appeared in the LGBT publication Out In SA — that the site needed to be rezoned. The application to rezone the site will be heard by the city's Zoning Commission next week. Whitley said even if the rezoning application is rejected, she'll find another site. 
"I might have to jump throughout five hoops instead of two, but it's going to happen," she said. 
Whitley said she thinks opposition to the shelter is based on the fact that the city is trying to keep homeless people out of dowtown, rather than anti-LGBT sentiment. 
About 40 percent of homeless youth identify as LGBT, according to a 2012 study by UCLA's Williams Institute. Of those, 46 percent said they ran away because of family rejection, while another 43 percent said they were forced out by their parents. According to Thrive Youth's website, the rate in San Antonio is even higher, with as many as 50 percent of homeless youth in the Alamo City identifying as LGBT.
Whitley and the shelter's assistant director, Joshua Lee Yurcheshen, said they visited The Ali Forney Center in New York City and the Los Angeles LGBT Community Center — two of the only other shelters exclusively for homeless LGBT youth. 
Initially, Thrive will provide emergency shelter for up to eight youth, two nights a week, and offer breakfast packs and bus passes. But Thrive's founders say the shelter will eventually be open every night in addition to offering a daytime Drop in Center and a Transitional Housing Program.
"This is the first critical step for our organization," they wrote on Thrive's website. "As we gain strength and momentum, we will attain our goal of being able to provide a safe haven every night of the week for homeless and at-risk youth. It is the first step in breaking the cycle of homelessness."
For more info on the Thrive Youth Center, or to donate or volunteer, visit the website.
Watch a report from WOAI-TV, AFTER THE JUMP …