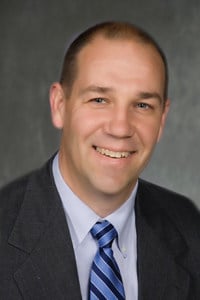 Ever since the U.S. Supreme Court decided to let stand a federal judge's decision striking down Indiana's same sex marriage ban, social conservatives in the state have rallied together in favor of legislation that would protect their "religious liberties." Republican state Senator Scott Schneider (right) has become one of Indiana's most vocal proponents of a new bill that would effectively empower small, privately-owned businesses to discriminate against LGBT patrons on religious grounds.
"The focus has been on same-sex marriage because that's the hot topic right now, but it goes far beyond that," he said of his vision of a future 'religious liberty framework.' "It's important to have some religious freedom and protection."
Though Indiana's legislative session does not re-commence until January 6th, conservatives are already in the process of working out some of the finer detailed of the so called 'freedom of conscience' bill. Modeled after president Bill Clinton's federal Religious Freedom Restoration Act, the bill would also severely limit queer couples' ability to adopt children. Those against the bill, like State Rep. Ed DeLaney, worry that the bill could cause more harm than good if passed.
"We are not being prevented from exercising our faith, nor are we being forced to do something we don't want to do," he lamented. "It's kind of sad, really."
[via The Courier Journal]