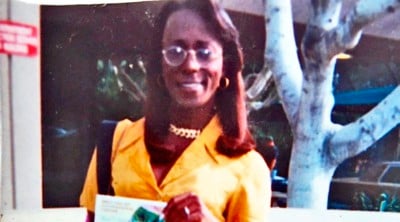 Los Angeles police have characterized transgender woman Aniya Knee Parker's murder as a street robbery gone bad. 
But LGBT advocates believe Parker's execution-style slaying in East Hollywood in October was a hate crime. 
We may soon find out which theory is correct, after the LAPD announced the arrest of one of three suspects in Parker's murder on Monday.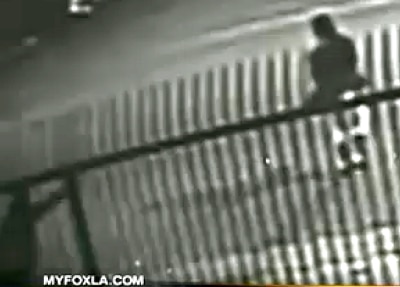 Parker (above), 47, was fatally shot at about 3 a.m. on Oct. 2 near Melrose and Kenmore avenues, as she tried to flee from three men who'd attempted to steal her purse. The shooting was captured on surveillance video (right). 
The suspect arrested Monday is a juvenile, and police aren't releasing his name or additional information. According to a previous report from KTLA-TV, police believed all three suspects were Latino males ages 20 to 35.  
Parker is one of three transgender woman murdered in Southern California this year, according to Fox 11: 
Transgender immigration activist Zoraida Reyes, 29, was strangled June 11 and her body was dumped the following day near a Dairy Queen in Anaheim. A 38-year-old Anaheim man has been charged in the killing.

Another transgender woman was found dead on the front porch of a residence in the 6100 block of South Wilton Place on Oct. 1. She had been robbed and then shot — and LAPD detective Chris Barling said his investigators believed the killing may have been a hate crime. 
After Parker's murder, officials offered a $50,000 reward for information leading to the suspects, but police aren't saying whether a tip led to the arrest. 
In announcing the reward, police said they believed the incident began as a random robbery, but LGBT advocates aren't so sure. Among other things, they've pointed to the fact that even after Parker had been shot, the suspects didn't take her purse. From CBSLA.com: 
The manager of the Los Angeles LGBT Center's antiviolence project said it's "very possible" Parker was targeted because she was a transgender woman.

"None of us want to live in a city or in a world where we targeted just for who we are," said Christopher Argyros of the LGBT Center.
Parker's family was able to raise enough money through a GoFundMe campaign to fly her body back to her native Arkansas. 
Watch Fox 11's report report on the arrest, AFTER THE JUMP…