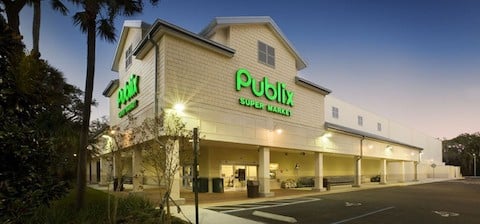 Florida-based supermarket chain Publix will offer legally married same-sex couples group health insurance and other benefits regardless of state laws, according to an internal memo published by the Miami Herald:
"Beginning Jan. 1, 2015, Publix is expanding spouse coverage for its health, dental and vision benefit plans to associates who are married in any state where same-sex marriages are legal, regardless of the associates' state of residence," reads an internal memo from the supermarket company's corporate communications department. "Publix's benefit plans offer coverage to legal spouses, and until recently, the states in which Publix operates did not recognize same-sex marriages as legal unions."
Until now, Publix did not offer insurance benefits for same-sex couples, legally married or not. "The majority of the total Fortune 500 — 66 percent — offer equivalent medical benefits between spouses and partners," according to the nation's leading LGBT-rights lobbying group, Washington, D.C.-based Human Rights Campaign (HRC).
The news from the chain, which owns 1,095 grocery stores in the Sunshine State, Alabama, Florida, Georgia, North Carolina, South Carolina and Tennessee, comes as Florida awaits the expiration of a stay on a federal ruling striking down the state's gay marriage ban.
The stay is set to expire on January 5, setting the stage for marriage equality to take effect the following day. This week has seen furious legal wrangling as conservatives try to halt the ruling from going into effect.
The Publix policy is set to go into effect regardless of the law and gay couples can apply for benefits beginning tomorrow.
Said Equality Florida's Nadine Smith to the Herald:
"This is huge news. Publix is an iconic brand as associated with Florida as beaches and sunshine. This step recognizes that marriage is coming and acknowledges the impossibility of maintaining separate and unequal laws in some parts of our state and nation. The timing of this announcement comes as dozens of businesses are weighing in calling for an end to the marriage ban."
About a year ago, Publix was under scrutiny for alleged anti-gay attitudes and unofficial policies. This is very welcome news.