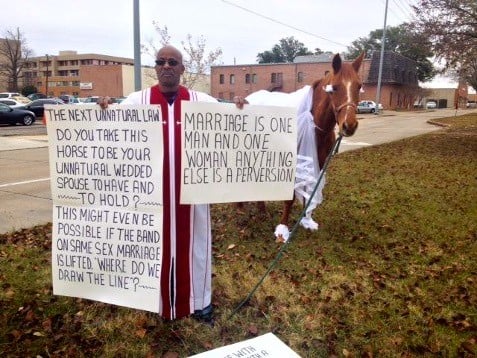 The above image from WAPT-TV shows the Rev. Edward James outside the federal courthouse in Jackson, Mississippi, on Friday, with his horse, Charlotte, in a wedding dress.
James, of Chapel M.B. Church, was protesting a recent ruling from a Mississippi federal judge striking down the state's bans on same-sex marriage, a decision James hopes the judge will reconsider based on his "ridiculous" protest.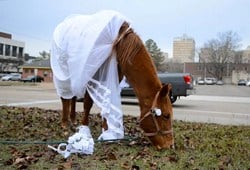 "Although (the protest) is ridiculous, so is the same-sex marriage status," James told The Clarion Ledger. "That's the point I'm trying to convey to Mississippians today, and I'm hoping that (U.S. District Court) Judge (Carlton) Reeves will reconsider his ruling and that Mississippi will stay a state that will only recognize marriage between a man and a woman."
James' signs read:
"THE NEXT UNNATURAL LAW: DO YOU TAKE THIS HORSE TO BE YOUR UNNATURAL WEDDED SPOUSE TO HAVE AND TO HOLD? THIS MIGHT EVEN BE POSSIBLE IF THE BAND (sic) ON SAME SEX MARRIAGE IS LIFTED. 'WHERE TO DO WE DRAW THE LINE?'

"MARRIAGE IS ONE MAN AND ONE WOMAN ANYTHING ELSE IS A PERVERSION."
In a post mocking James, the Human Rights Campaign notes that he's hardly the first opponent of same-sex marriage to suggest that gay nuptials will lead to man-horse unions:
Bryan Fischer of the American Family Association said, "The DOMA ruling has now made the normalization of polygamy, pedophilia, incest and bestiality inevitable. Matter of time,"

Rep. Louie Gohmert (R-TX) once asked, "Or why not, you know, somebody has a love for an animal or-? There is no clear place to draw a line once you eliminate the traditional marriage."

Rick Santorum told the Associated Press, "In every society, the definition of marriage has not ever, to my knowledge, included homosexuality. That's not to pick on homosexuality. It's not, you know, man on child, man on dog, or whatever the case may be. It is one thing."

And Virginia's Republican nominee for Lt. Governor E.W. Jackson warned the crowd during a sermon that if they don't stop "Adam and Steve" it is going to "soon be Adam and a bull."
I'd hate to lump James in the same category with those folks — he seems far more creative, and I commend him for giving us a break from those tired "death to gays" sermons. I'm also pretty sure James is just trying to get some publicity for his church, whose Facebook page hasn't been updated in over three years.
But James' protest does make you wonder whether the good pastor actually read Judge Reeves' 72-page decision. The decision, which has been stayed by the 5th U.S. Circuit Court of Appeals, compared the same-sex marriage bans to prohibitions on interracial marriage and discussed in detail how gays were targeted along with African-Americans by groups like the Klu Klux Klan.
Oh well, at least Charlotte got some fresh grass.
Watch a video report from The Clarion Ledger, AFTER THE JUMP …(warning: autoplay)