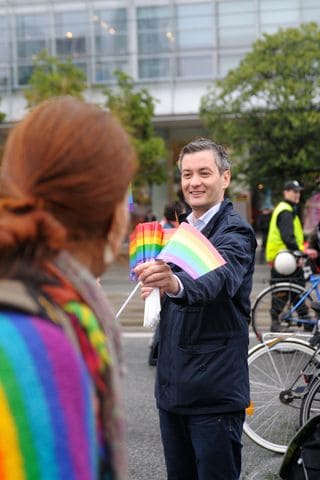 Robert Biedron has become Poland's first openly gay mayor and in so doing has triggered a trend the Polish media are referring to as the "Biedron Effect." Biedron first made headlines in 2011 when he became Poland's first openly gay member elected to the Sejm, the lower house of Poland's parliament. An outspoken defender of gay rights, Biedron was elected as a representative for the Palikot Movement, a liberal, anti-clerical Polish party.
Though he was technically elected through Poland's system of proportional representation, Biedron's presence in the Polish parliament marked the start of a shift in the types of people running for public office in the country.
Anna Grodzka, Poland's first publically elected transgender member of parliament came into office in the same round of elections with Biedron. Similarly, in the days running up to the Mayoral election that Biedron won, a record number of queer-identified candidates came out. While none of the other openly gay candidates were elected to seats, Biedron says that their presence in the public sphere reflects a change in Poland's atmosphere.
"I see how fast Polish society has learned its lesson of tolerance," Biedron told the Associated Press. "So I am very optimistic and happy with Polish society — and proud."