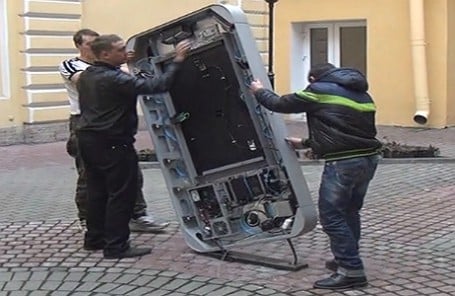 In 2013 the Western European Financial Union ZEFS erected a 6'6'' iPhone-shaped memorial to Steve Jobs in St. Petersberg. The memorial stood for about a year in the courtyard of a local IT university campus before being taken down after Apple's CEO Tim Cook came out as being gay. The Moscow Times is now reporting that ZEFS has chosen to auction off the interactive statue after a forum of the Union's members overwhelmingly voted against reinstalling it. Bidding for the statue begins at 5 million rubles, or about $94,000.
The memorial was originally taken down the day after Tim Cook's announcement and ZEFS chairman Maxim Dolgopolov was frank in his reasoning behind removing the interactive statue. In addition to concerns of American spying raised by Edward Snowden's revelations, ZEFS found Apple's support of its CEO, and its explicit support of gay rights, in clear violation of Russia's homophobic "LGBT-propaganda" laws.
"After Apple CEO Tim Cook publicly called for sodomy, the monument was taken down to abide to the Russian federal law protecting children from information promoting denial of traditional family values," ZEFS said in a statement to Reuters.
In other news, the iPhone is selling quite well in Russia.