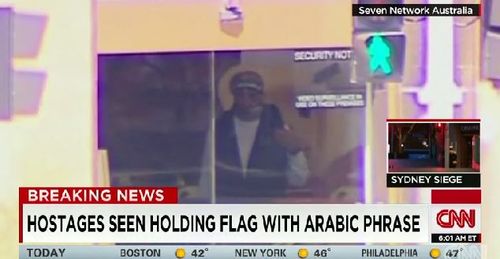 An ongoing hostage crisis has rocked the Australian city of Sydney today as police enter the fourteenth hour of the central business district cafe siege.
During rush hour on Monday morning, at least one armed gunman entered the Lindt cafe in Sydney's Martin Place. It remains unclear exactly how many people remain inside the cafe, with reports ranging from 15 to 30 potential hostages. Five people have emerged from the cafe since the siege began, although police have not said whether the five escaped or were released. 
The gunman is also said to be demanding an ISIS flag and a phone call with Australian Prime Minister Tony Abbott.
The Guardian reports: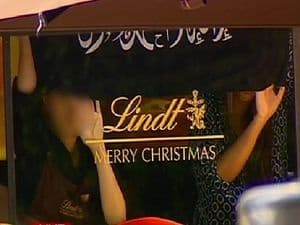 Chilling early images showed some hostages apparently forced to hold a black and white flag against the window bearing the Islamic creed, raising fears that a terrorist attack was under way. Other terrified hostages inside the cafe could be seen with their hands pressed against the glass.
Police evacuated offices in the immediate vicinity of the cafe and directed workers in nearby buildings to remain indoors and away from open windows. Panic spread when a man in the area was arrested by police, but the incident was unrelated.
Staff and tourists around Sydney Opera House were also reported to have been evacuated after a suspicious package was spotted. Helicopters were seen hovering above the tourist attraction throughout the day.
The black flag in the window of the cafe appeared to bear the Shahada, an Islamic affirmation of the oneness of God, reading: "There is no god but the God, Muhammad is the messenger of God."
ABC News adds:
New South Wales Police Commissioner Andrew Scipione, speaking at a news conference as the situation stretched into the night, said authorities remain committed on ensuring that the hostages are safely released.
"We have the very best negotiators in the world on the job," Scipione said.
New South Wales Premier Mike Baird said people should proceed as usual on Tuesday morning, but should work from home if their offices are located within an exclusion zone near the standoff.
Watch news reports on the story, as well as PM Tony Abbott's statement on the ongoing crisis, AFTER THE JUMP…
[bottom photo via Channel 7 News]