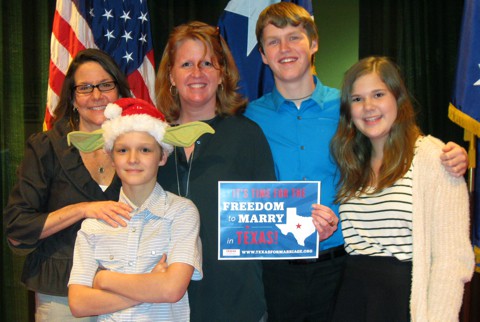 Freedom To Marry President Evan Wolfson was joined by Texas same-sex plaintiff couples for a marriage town hall at the LBJ Presidential Library in Austin on Monday night.  
But Mason Marriott-Voss, a 16-year-old from Austin with two moms, stole the show with a rousing two-minute speech about the importance of bringing marriage equality to the Lone Star State.  
Marriott-Voss (shown with his family above) said when his two moms had him, same-sex marriage wasn't legal anywhere in the US, adding that a lot has changed, "but not here in Texas." 
"There are still people who stubbornly refuse to recognize family even when it's right in front of them," he said. "Some people are still genuinely concerned that my parents' love could harm tradition or erode society, maybe even threaten existing marriages."
Marriott-Voss talked about how ordinary his family is — his stepsister is a straight-A student who likes Harry Potter and his younger brother is wearing a Yoda-Santa hat every day in December in hopes that it will bring a white Christmas to Austin.  
"We share the same values and beliefs as everyone else, the same normal struggles and triumphs, except we are denied the basic dignity of being officially respected as the family that we are," Marriott-Voss said. "These anti-family laws create a raw deal for kids like me. Marriage is supposed to be a very important issue, but these laws cause children to be raised across the country in homes without it. The most important thing I want you to take away from me today, is that it's not our families that need to change, it's Texas." 
Freedom To Marry's Wolfson said people like Marriott-Voss continuing to tell their families' stories will be key to bringing same-sex marriage to Texas and the other 14 states where it's still banned.
A federal district judge struck down Texas' marriage bans in February, but Republican Attorney General Greg Abbott has appealed the decision to the 5th U.S. Circuit Court. The 5th Circuit will hear oral arguments in the Texas case Jan. 9 — around the same time the U.S. Supreme Court meets to decide whether to hear appeals of a 6th Circuit ruling upholding marriage bans in four states.
But Wolfson's message to the more than 100 who attended Monday's town hall was that it's critical for people in Texas to remain engaged rather than sitting back and watching because they think victory is inevitable. 
"Clearly we are winning and there's tremendous reason for hope and optimism and excitement, but winning is not won, and the way we're winning is by getting out there and talking and telling our stories and building support, and showing the country and courts that America is ready and they (the courts) can do this, and that there's real urgency and they need to do it," Wolfson said. "So why would we stop doing what's working when we're on the verge of winning?" 
Watch Marriott-Voss' speech, and check out a few more photos from the event, AFTER THE JUMP…