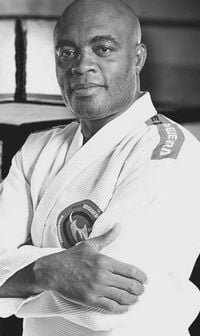 As a child Anderson Silva was bullied because other children believed him to be gay. In an interview with Trip magazine, the 39-year old UFC fighter describes growing up as a black man whose race and sexuality were sources of cultural friction. Growing up Silva's aunt got him into ballet, an experience that the fighter both loved and hated.
"My friends would all go like, 'ah, little girl, little lady.' And add that to my high-pitched voice—I was bullied a lot, but I started to like ballet." he said of his childhood.
"Evander Holyfield practiced ballet. It's got nothing to do with that, you know. If you want do ballet, you do ballet. You want to fence, you fence. You want to be gay, be gay, it's all right. You respect people's spaces, they respect yours, it's all right."
Silva's perspective on gays reflects a recent shift the the UFC's general position on members of the LGBT community. Earlier this year before his final fight Kyle Kingsbury showed his support for the legalization of gay marriage during a weigh-in. The UFC also recently launched its Protect Yourself at All Times campaign aimed at increasing HIV awareness amongst UFC fans under the age of thirty. The UFC, Silva insisted, owes it to the LGBT community to show its support because so many fighters, though closeted, are themselves queer-identified.
"There's a lot of homosexuals in mixed martial arts," he asserted. "There are a lot of them who haven't yet come out–nowadays it's so silly to not express your feelings. As long as you respect people's spaces, and respect their limits. You have to live your life in peace and no one has anything to do with that."
Silva himself doesn't mind addressing his own sexuality either, saying he's not gay but is also keeping the possiblity open that he might discover a new side of himself someday.
"I'm still young, it could be that in the future I'll find out that I'm gay. I take good care of my things, I put everything in a bag, I use soap, I put on a cream after training. People think it's capricious. To each his own. Doesn't mean you're more man or less man, more gay or less gay."