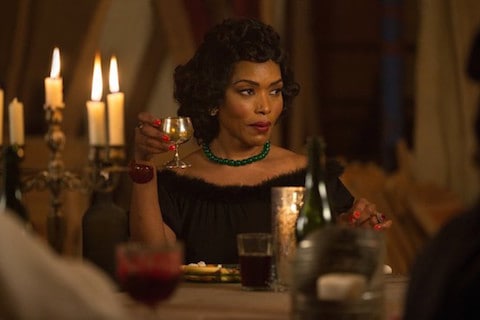 With only one episode left this season, American Horror Story: Freak Show has started to resolve its many plotlines with, predictably, a fairly high body count. Now, granted, a few of these characters and conflicts have only just been introduced, but that's par for the course on this show, where it feels like each week more and more crazy gets added to the mix.
Still, at least we're getting some resolution. In that regard, there was a lot of satisfaction to be found in tonight's installment, "Show Stoppers." If you've been waiting for some of these characters to get their comeuppance, you're in luck.
Find out who bit the dust and share your thoughts, AFTER THE JUMP …
Oh, look, a party! How nice! Everyone's drinking and laughing and being very, very friendly. Almost too friendly. There's a layer of tension through all the celebration, and it starts to become clear that the performers are concentrating their focus on ol' Stanley (Denis O'Hare). It's time for a film! No, not The Sign of the Cross (the film Sister Jude played in season two, Asylum). They want to watch Freaks. Stanley starts to sense the mounting tensions, but when he goes to make his exit, Desiree (Angela Bassett) insists he stays until he opens her gift. Out comes a big box, and inside? The head of the lady from the Museum of Morbidity!
His jig is up. They know what he's done. After a quick spin on the knife-throwing wheel, the performers give chase to Stanley out of the tent, onto the grounds and into the rain (another nod to Freaks). They've all got knives and other menacing objects as the corner Stanley under a trailer.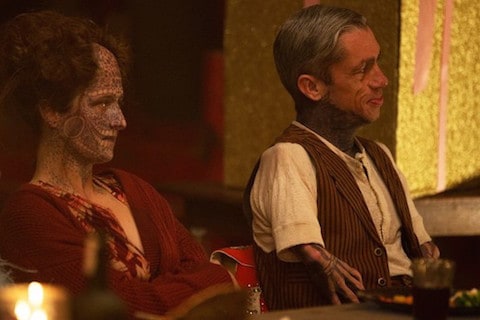 Though her Hollywood dreams were dashed, Elsa (Jessica Lange) still already sold the show to Chester (Neil Patrick Harris). The ventriloquist/magician has been busy schtupping the twins (Sarah Paulson and a slightly dumber looking Sarah Paulson). During their last, um, session, the girls got tired of his puppet, Marjorie (Jamie Brewer), looking on. He obliges their requests and tosses Marjorie to the floor in the throes of passion. This, of course, does not sit well with Ms. Marjorie.
She "confronts" him about it later, forcing him to realize it was he who murder-smashed his wife and her lover. He cries into her lap and she tells him that the twins have to go.
Meanwhile, Dandy (Finn Wittrock) visits Bette and Dot. He tells them that his mother died, and Bette is particularly sympathetic, which makes the scene even stranger when you realize they both KILLED their mothers. But he's not there to talk about that, he's there to warn them about Chester, the murder-smasher. They don't want to hear it.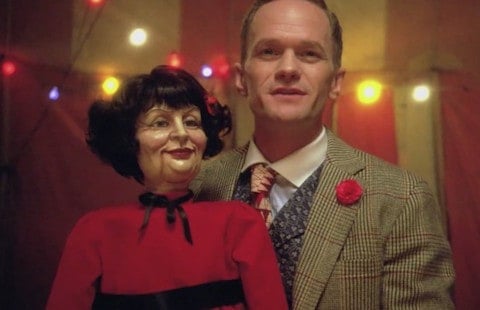 But, then again, maybe they do want to hear it, at least a little bit. When Chester introduces the new lineup for the show, they express a desire to resign as his assistant(s). This does not sit well with Mr. Chester. He's got an idea. How about instead of a volunteer, he saws the twins in half? Being that just standing near Chester while he performs was too much for the twins AND the thought of getting sawed in half is sort of a whole thing with those two, the sisters, unsurprisingly, give that one a hard pass.
Instead, Maggie (Emma Roberts) eagerly jumps in. She wants to be part of the show, and she knows how the trick works. Except, Chester's in one of his PTSD/metal-plate freakouts. He doesn't see Maggie; he sees his wife and her lover and Marjorie and he is NOT taking it very well. He locks her into the box and then slaps some handcuffs around her ankles. It's at this point that Maggie, rightfully, starts to FREAK OUT (no pun intended). But it's too late. He cuts the damn girl right in half, spilling out all her guts all over the stage. Oof. The rest of the performers come out, but it's too late. Desiree is unmoved.
That's when Marjorie runs away to pack her stuff in the trailer. Chester follows, and then stabs the puppet to death. In his rattled state, he turns himself in to the police for murdering the puppet (no mention of the real life girl he sawed in half). Goodbye, Chester! I'm sure the police will treat your condition with so much sensitivity!
Off in the barn, Jimmy (Evan Peters) is still recovering-slash-hiding from the police. Luckily, Elsa has a little friend that can help him out. It's the man who crafted her legs, Massimo (Danny Huston). Via flashback, we learn that Elsa's legs were taken by a young Hans Gruper, aka Dr. Arden from Asylum (played here by John Cromwell, son of James Cromwell, who portrayed Arden in season two). After hunting down the other men involved, Massimo was ready to kill Gruper, but Gruper saw him coming and shot him first. Then he tortured Massimo for a good long while. Massimo escaped and made his way to the States eventually, but the torture left him unable to love. Now he's here to make some hands for Jimmy.
Surprise, surprise, when Massimo gives Jimmy the choice to design his own hands, what do you think he chooses?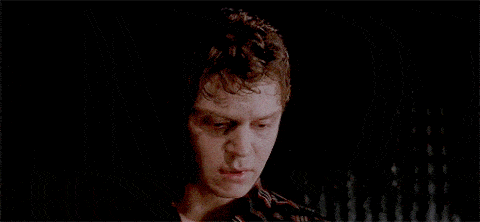 That's right, the Vulcan lobster ones.
During the attack on Stanley, Stan blurted out that it was Elsa who killed Ethel (Kathy Bates), and he helped cover it up. It wasn't until later when all the performers realized that, you know what? That sort of sounds pretty likely. So they decide to come together and kill her next.
Only problem is that the twins get to her first and warn her of the plot. She flees into the night, stopping only to sell the show to Dandy.
Mr. Mott arrives the next morning at the grounds and informs the performers that he's running the show now. As he stands over the stage, he hears a noise. It's Stanley! Sort of! He's in what appears to be some of Meep's old costumes, arms and legs cut off (yet another nod to Freaks). Not a great look.
Next week is the season finale! What do you think will happen?