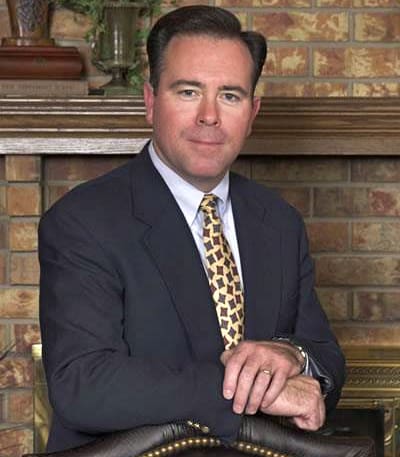 Complaining that the U.S. Supreme Court "stuck [same-sex marriage] down our throats," a Republican Oklahoma lawmaker has introduced a bill that would do away with all marriage licenses in the state.  
Rep. Todd Russ, R-Cordell (above), says his HB 1125 is designed to protect the religious freedom of state employees who object to same-sex marriage. The bill would prohibit judges from performing marriages and clerks from issuing marriage licenses. 
Instead, religious officials would sign marriage "certificates" that would be recorded with county clerks. In lieu of religious ceremonies, couples could also file affidavits of common-law marriage. Any state employee who violates the law would face up to a year in jail. 
From The Oklahoman: 
"Marriages are not supposed to be a government thing anyway," [Russ] said Wednesday.

Russ, a credentialed Assemblies of God minister, is upset with rulings that have supported same-sex marriage.

"There's a lot of constituents and people across the state who are not through pushing back on the federal government for the slam down they've given us with Supreme Court rulings," he said. … 

"Oklahoma voted overwhelmingly against same-sex marriage, and yet the Supreme Court stuck it down our throats," Russ said.
Oklahomans for Equality posted a statement saying Russ' bill would "create chaos": 
"Oklahomans for Equality calls upon all fair minded Oklahomans to contact your state representative and ask them not to support House Bill 1125 which would strip county court clerks of their duty of issuing marriage licenses. Rep. Todd Russ of District 55 has introduced the bill under the guise of protecting elected officials religious freedoms. If passed, this bill will de-fund court clerks already strained budgets, do away with the marriage license process which conforms to every other state, and create chaos in a system that has worked for more than century."
Oklahomans for Equality reported last week that more than 3,200 marriage licenses have been issued to gay couples since same-sex marriage became legal in October. That was after the Supreme Court declined to review the 10th U.S. Circuit Court of Appeals' decision striking down Oklahoma's marriage ban. 
Full text of Russ' bill, AFTER THE JUMP …