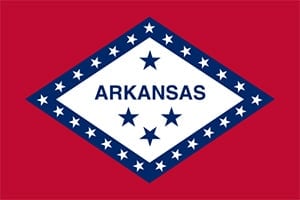 The state of Arkansas found itself in the hot-seat on Monday with the 8th Circuit Court of Appeals over its failure to pay a $505 docket fee required for its appeal of a federal judge's November 2014 ruling striking down the state's ban on same-sex marriage to move forward. As the AP reports, the 8th Circuit threatened to dismiss the state's appeal but ultimately gave the state two additional weeks to "demonstrate why its appeal shouldn't be dropped":
The appeals court notified the state Jan. 7 that the money was due last Wednesday. Attorney General Leslie Rutledge replaced Dustin McDaniel on Jan. 13. Her office blamed clerical errors made before she took over and said that the appeal would proceed.
"It's not in jeopardy," Rutledge spokesman Judd Deere said. "The fee will be paid."
McDaniel said Monday evening that he was not aware the state had missed the payment. He said the docketing fee wasn't among topics he and Rutledge discussed during the transition. He said that fee payments would have been a routine task handled by other attorneys in the office.
Advocates for same-sex couples seeking the freedom to marry in Arkansas are not discounting the technicality:
Jack Wagoner, an attorney representing same-sex couples, said that the state's appeal is a waste of taxpayers' money — but that he would take any form of victory.
"A win is a win," Wagoner said. "I don't care if it's on technicality or in a close opinion or whatever."