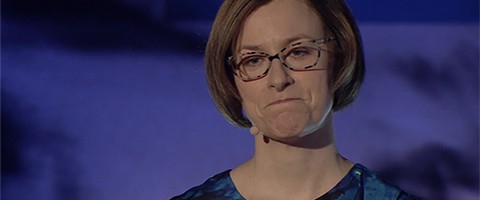 Morgana Bailey, a Human Resources professional, recently came out at TED@State Street London's talk, surprising her colleagues at the event who did not know she was a lesbian. Bailey even hid the truth from the TED organizers about why she wanted to speak and what her talk would be about. But hiding was something that had become all too routine for Bailey. "Hiding is a progressive habit," she says. For 16 years, Bailey hid her sexual orientation. The ripple effect of living a life dictated by hiding and secrecy was profound. A girl who was once unconventional and vivacious instead sought to conform to avoid being found out. 
However, emboldened by what she saw as a larger moral and social imperative, Bailey finally decided to come out. Said Bailey:
I am a lesbian. I've struggled to say those words because I didn't want to be defined by them. Every time I would think about coming out in the past I would think to myself, but I just want to be known as Morgana, uniquely Morgana but not my lesbian friend Morgana or my gay co-worker Morgana. Just Morgana. For those of you from large metropolitan areas this may not seem like a big deal to you. It may seem strange that I have supressed the truth and hidden this for so long. But I was paralyzed by my fear of not being accepted. And I'm not alone of of course.
Bailey cites statistics that show that 83% of LGBT employees admitted changing some aspect of themselves at work so they would not appear too gay. "Employees struggled to be themselves at work because they believe conformity is critical to their long-term career advancement," Bailey said. 
Bailey was also alarmed by an article she read in The Advocate that found that LGBT people living in anti-gay communities have a life expectancy 12 years lower than their heterosexual peers. This statistic combined with the others underscored for Bailey the danger in not being who you are:
"The article made me realize that my silence had personal, professional and economic consequences. I'm not saying that everyone has to be an activist. But if we let our true selves be known at every opportunity for education and awareness, we will help enrich our own lives and help advance our rights within society."
Watch Bailey's inspiring TED Talk, AFTER THE JUMP…