U.S. District Court Judge Mark Goldsmith ruled today that Michigan must recognize more than 300 marriage licenses issued to same-sex couples last March. Goldsmith stayed his ruling for 21 days.
Freedom to Marry reports: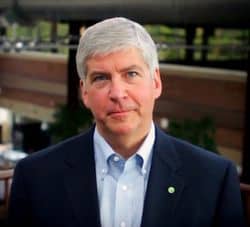 Today's ruling was in the case Caspar v. Snyder, which was filed on April 14, 2014 by the American Civil Liberties Union of Michigan on behalf of eight same-sex couples who received marriage licenses on the first day of the freedom to marry in Michigan. More than 300 couples received marriage licenses on March 22, after a federal judge struck down the state's ban on marriage for same-sex couples. The ruling was stayed later that afternoon, and although the federal government said that it would respect the Michigan marriage licenses for all purposes, Governor Rick Snyder (pictured) said that the state would deny respect to the licenses as the 6th Circuit Court of Appeals considered arguments in the original federal lawsuit.
Judge Goldsmith wrote:
The alleged harm of impaired human dignity and denial of at least some tangible benefits have already come about, thereby establishing that the factual record is sufficiently developed, such that there is no need to await future events for adjudication of the issues in this action. And delaying judicial resolution of these issues would serve no useful purpose. To the contrary, such delay would compound the harms these Plaintiffs suffer each day that their marital status remains unrecognized.
Judge Goldsmith's ruling, which is stayed for 21 days, means that all of the same-sex couples who were married on March 22 before the ruling was stayed will soon be respected by the state.
Ruling, via Equality Case Files, below: