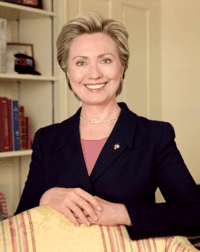 According a cryptic Politico article, Hillary Clinton is all but done making her handpicked decisions for her potential Presidential cabinet.
Though most of the notable decisions have purportedly been made, the pick for Clinton's communications director has yet to be decided. Current White House communications director Jennifer Palmieri, writes Politico's Mike Allen, is being strongly considered, but Clinton remains insistent upon plotting out her campaign in "her way" according to sources close to her.
Politico also has the scoop on the Clinton team's shortlist for Vice President:
The Clinton team knows it can't campaign with the swagger of a presumptive nominee because the air of inevitability was so damaging last time around. That said, some advisers are already privately talking up potential running mates, with Sens. Michael Bennet of Colorado and Tim Kaine of Virginia dominating the early speculation.
Some advisers expect a push for diversity on the ticket. So the shortlist also is expected to include Housing and Urban Development Secretary Julián Castro, Labor Secretary Tom Perez, Sen. Cory Booker of New Jersey and perhaps California Attorney General Kamala Harris, who is running for U.S. Senate.
Read the full article here. 
Who do you want to see on the ticket?