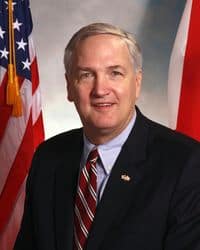 Alabama Attorney General Luther Strange has filed a notice of appeal to the Eleventh Circuit regarding last week's federal ruling that overturned the state's ban on same-sex marriage. 
Yesterday, we reported that U.S. District Judge Callie V. Granade placed a 14-day stay on her ruling to allow Strange to present his arguments to the Eleventh Circuit. 
Said Strange in a statement:
"Judge Granade's decision to grant a stay of her January 23, 2015, ruling concerning Alabama's ban on same-sex marriages is a step in the right direction. While I would have preferred a longer stay to allow the matter to be settled by the U.S. Supreme Court's anticipated ruling in June, the 14-day stay allows more time for my office to prepare our stay request to the 11th Circuit Court while also affording the public time to resolve the confusion over the impact of the recent ruling." 
A similar request by Florida's Attorney General Pam Bondi last month was shot down by a three-judge panel of the Eleventh Circuit. If the court fails to act during the 14-day period, the stay will be lifted February 9th. 
Read the notice below via Equality Case Files: