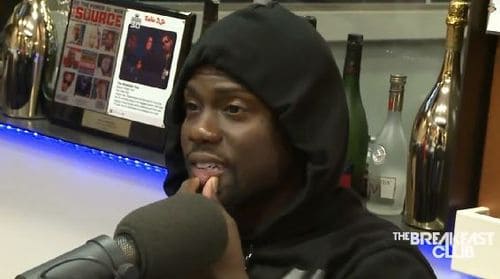 Appearing on New York's The Breakfast Club radio show Friday to promote his new film The Wedding Ringer, actor-comedian Kevin Hart revealed that he turned down a spot on 2008's Tropic Thunder because the role was for a "flagrant" gay character. That role in question later went to actor Brandon T. Jackson. 
Prefacing his comments by saying he's "politically correct to the gay community," Hart went on to admit he would never do a "gay role" because of his own concerns about what people would think. 
Said Hart:
"Not because I have any ill will or disrespect, it's because I feel like I can't do that because I don't think I'm really going to dive into that role 100%. Because of the insecurities about myself trying to play that part. Like, would I think people are going to think while I'm trying to do this is going to stop me from playing that part the way that I'm supposed to. 
Watch, AFTER THE JUMP…
Last January, Hart explained why he no longer does "gay jokes," saying: ""It's just a sensitive topic and I respect people of all orientations. So, it's just best left alone."