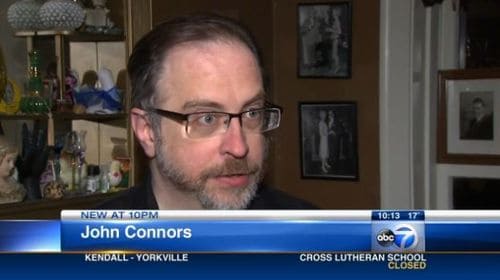 Put this one in the weird weather file.
John Connors returned to his Chicago home last week to find his cat Oscar terrified and a collection of bowling ball-sized ice chunks that had crashed through his roof.
ABC 7 reports: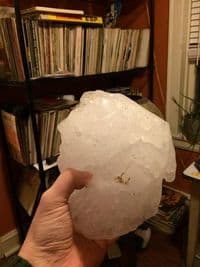 "If I had been here, I would have been killed," Connors said. 
His neighbor Doris Patiz was home at the time.
"I hear this terrible blast, I thought it was a gas explosion," Patiz said.
"I walked in and thought a bomb had exploded," Connors said. "I looked up and I could see the sky and planes." 
Connors says the ice chunks crashed through the roof with such force, they shattered the ceiling beams – barely missing his cat. Connors was so shocked when he saw the damage, he didn't notice the frigid, artic wind whipping through the gaping hole in his ceiling. 
"My chair was soaked with ice, just like, encrusted with ice and the rugs were soaked from the ice that had melted," Connors said. 
One chunk was found in his bedroom, about 20 feet away from his living room.
Thankfully, the ice chunks missed Connor's glass curio cabinet, which houses a certain famous phallic plaster cast by noted artist Cynthia Plaster Caster. The prized item was also humouroulsy (and unknowingly) featured prominently in the background of a local news interview. 
See for yourself, AFTER THE JUMP…
Writing to Towleroad, Connors says of his interview with ABC 7: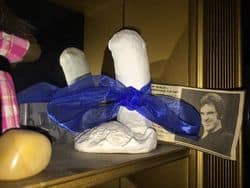 The camera man put me in front of a glass wall hanging curio cabinet to talk to me. I'd forgotten that on one of the shelves was a plaster cast of 60's singer/songwriter Anthony Newley's penis that my friend the famous Cynthia Plaster Caster gave me for a birthday a few years ago. So when I was on the news, right next to my head is a penis with a blue bow on it. I don't know if anyone else saw it, but I thought it was hysterical.
Connors says he's saved the ice chunks in the freezer in the hopes he might be able to determine how and why they crashed into his apartment. If that fails though, maybe he can recommission Cynthia to do a penis-themed ice sculpture with em?