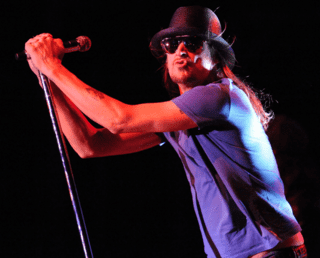 As far as rock stars go Robert James Ritchie, better known as Kid Rock, has never come off as being the most tolerant when it comes to members of the gay community, but he's also never really been an explicit homophobe.
Rock showed off that trademark, middle of the road thinking in a recent interview with the Guardian in which he admits that while he's down with the idea of gays being able to marry, actually officiating a gay wedding would give him pause. Later on in the interview, however, Rock regrettably goes on to describe the the current state of rap-rock music as "gay."
"Rap-rock was what people wanted at the time, and they still love those songs at shows," he said of the genre that made him famous. "But it turned into a lot of bullshit and it turned out to be pretty gay. If someone says you can't say "gay" like that you tell them to go fuck themselves. You're not going to get anything politically correct out of me."
Unsurprisingly, this isn't a first for Rock. Back in 2009 when asked if he was using Twitter, the self-described "redneck" rocker pejoratively called the social network gay. Three years later, however, Rock appeared in a public service announcement alongside Sean Penn that hinted at his actual support for same-sex marriage.
Though Rock identifies as a Republican, he made no qualms about expressing his discontent with the party in a 2013 interview with Rolling Stone in which he reaffirmed his ideological support of same-sex marriage and suggested that he'd consider voting for Hillary in 2016.